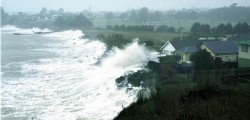 Monday - Coastal floods will become much more common with even small rises in sea-levels, scientists say.

Monday - Scientists fear that Antarctica's ice sheet might have entered the early stages of an unstoppable disintegration.

Monday - Experts have challenged a claim by Bjørn Lomborg's Copenhagen Consensus Centre that holding global temperature rises to 2deg is a poor investment.

Thursday - Unilever will pilot an innovative technology to recycle plastic sachets, preventing billions of sachets entering oceans and landfill.

Wednesday - New Zealand's Yellow-eyed penguins – the world's rarest penguin - could be extinct on the mainland by 2060 as climate change puts extra pressure on the already endangered birds, scientists are warning.

Wednesday - An unusually warm Arctic spring fueled the second-hottest April on record globally.

16 May 17 - Failing to hold climate warming to 1.5deg could spell disaster for New Zealand's ancient West Coast podocarps forests, new research shows.
---
16 May 17 - Scientists warn that alpine flowers and plants could face extinction as warming forces them higher up into hostile rocky mountain terrain.
12 May 17 - Circulation changes caused by warming waters and melting polar ice are the most probable explanations for the rapidly falling levels of oxygen in the ocean.
10 May 17 - Alaska's soils are taking far longer to freeze over, resulting in a surge in carbon dioxide emissions that could mean a much faster rate of global warming.
8 May 17 - Ingenuity in laboratories worldwide is harnessing microbes, water and hot air to produce different types of renewable energy from greenhouse gas.
5 May 17 - April was – officially - warmer and wetter than usual.
5 May 17 - A new study argues the 97 per cent climate consensus estimate is too low, while deniers claim it's too high.
5 May 17 - If we believe that we can personally help to stop climate change with individual actions – such as turning the thermostat down – then we are more likely to make a difference, according to new...
3 May 17 - European researchers stress urgency in tackling global warming to meet climate targets, and say the goal of a less than 2deg rise may be unrealistic.
2 May 17 - The climate event that helped to supercharge global warming to record levels in 2015 and 2016 is 50-60 per cent likely in 2017.
2 May 17 - Nitrite pollution caused by rising temperatures is changing the chemistry of coastal waters, threatening more algal blooms and zones devoid of fish.
2 May 17 - Coastal marine food chains could be in danger of collapse as a result of rising carbon dioxide levels.
2 May 17 - Studies show that oxybenzone, a common chemical found particularly in spray-on sunscreens, contributes to coral bleaching and leaves reefs deformed.
---