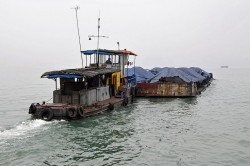 23 Jul 20 - As other countries pull out of Vietnam's coal sector, Chinese banks have become the lender of last resort for struggling projects.

20 Jul 20 - For South Korea it seems, climate care is a case of going green at home – and doing the opposite overseas.

4 Jun 20 - Japan wants to bolster global momentum for climate action by hosting an online platform and high-level political event on greening the post-coronavirus economic recovery.

25 May 20 - The country's youngest MP is on a mission, inspired by Greta Thunberg, as climate moves up political agenda.

15 May 20 - Bangladesh is expected to double its imports of fossil fuels in the coming decade and will miss its 2020 clean-energy target.

12 May 20 - Green groups worry about a plastic "onslaught" in Southeast Asia as home deliveries during lockdowns add to mountains of waste.

8 May 20 - The South Korean government is backing a $2 billion bailout of the country's biggest coal plant manufacturer, despite promises to end coal financing.
---
28 Apr 20 - The Indonesian government's plan to relocate the country's capital from Java to the jungles of Borneo has hit a wall.
17 Apr 20 - South Korea is on track to set a 2050 carbon neutrality goal and end coal financing after its ruling Democratic Party won an absolute majority in the country's parliamentary elections on Wednesday.
2 Apr 20 - A surge in Asia Pacific carbon emissions and the degradation of its environmental resources is alarming, says the UN.
31 Mar 20 - Japan has laid out its plans to tackle greenhouse gas emissions under the Paris agreement in the run-up to UN climate talks this year, becoming the first large economy to do so.
20 Mar 20 - Southeast Asia's aggressive development to spur economic growth are stripping the region's coasts of mangrove forests at rates faster than anywhere.
19 Mar 20 - With financial losses and a heavy death toll from climate-related disasters constantly rising, India is at last focusing on the dangers of global warming.
18 Mar 20 - South Korea's ruling party has announced its ambition for the nation to adopt a Green New Deal and deliver net zero carbon emissions by 2050.
24 Feb 20 - Indonesia is the world's second-largest ocean plastic polluter, after China.
24 Feb 20 - Climate-vulnerable Singapore will part ways with fossil fuel vehicles within the next two decades and throw its weight behind cleaner vehicles.
19 Feb 20 - Malaysia's major banks are bucking a global trend toward the decarbonisation of the finance industry by continuing to finance new coal-fired power projects in Southeast Asia, a new report has found.
11 Feb 20 - Major flooding from just a few hours of heavy rain in Samarinda, Indonesia's coal-mining capital, has underscored the severity of the environmental degradation being carried out by the industry,...
7 Feb 20 - Just beyond the windows of Satsuki Kanno's apartment overlooking Tokyo Bay, a behemoth from a bygone era will soon rise: a coal-burning power plant, part of a buildup of coal power that is unheard-of...
---