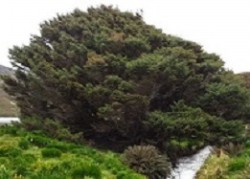 Thursday - The Anthropocene began in 1965, according to signs left on Campbell Island by the world's loneliest tree.

Thursday - The Earth's largest animal group faces a new threat. Insects – not just rare species, but common insects, too – might become less genetically diverse.

Thursday - Climate change is thundering down the pitch and could seriously affect the way cricket is played in the years ahead.

Wednesday - The OECD has encouraged governments to start taxing CO2 emissions more aggressively while warning that current taxation levels are not enough to fight climate change effectively.

Tuesday - Eunice Foote's career highlights the subtle forms of discrimination that have kept women on the sidelines of science.

Monday - US intelligence chiefs again have warned Congress about the global security risks from climate change ... and they weren't talking about far-off threats. US INTELLIGENCE chiefs again have warned Congress about the global security risks from climate change ... and they weren't just talking about far-off threats.
Monday - Populations of all kinds of wildlife are declining at alarming speed. One radical solution is to make 50 per cent of the planet a nature reserve.
---
15 Feb 18 - Iceland is the first nation to use more electricity on mining cryptocurriencies than on its households – thanks in part to its magma-fuelled power plants.
14 Feb 18 - A UN draft report says missing the 1.5deg warming target will multiply hunger, migration and conflict, but staying under will require unprecedented global cooperation.
12 Feb 18 - If all planned plants are constructed, the world would have little chance of meeting its climate change goals, say scientists.
7 Feb 18 - It's a simple idea: Strip CO2 from the air and use it to produce carbon-neutral fuel. But can it work on an industrial scale?
7 Feb 18 - The slaughter of people defending their land or environment continued unabated in 2017, with new research showing almost four people a week were killed worldwide.
5 Feb 18 - Your morning cup of coffee contributes to six million tonnes of spent coffee grounds going to landfill every year.
1 Feb 18 - Climate change could be causing shifts to the natural cycle of life in the tropical rainforest, scientists have suggested.
1 Feb 18 - The war on plastic waste is extending to the UK's favourite beverage, with a major retailer developing a biodegradable paper teabag that does not contain plastic.
26 Jan 18 - Capitalism must change to avert climate change, says the world's largest asset manager, Blackrock.
25 Jan 18 - Public and private sector funds must increasingly pool resources to finance larger global sustainability and climate change projects, a new study shows.
14 Dec 17 - The Earth cannot accommodate our need and greed for food. We must change our diet before it's too late, says George Monbiot.
14 Dec 17 - When a river flows into the ocean, so does plastic. Lots of it. Globally, rivers transport as much as four million tonnes of plastic out to sea every year.
---