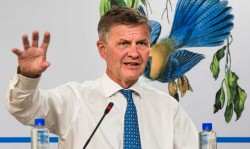 Thursday - The UN's environment chief, Erik Solheim, has resigned following severe criticism of his global travels and internal rule-breaking which led some nations to withhold their funding.

Wednesday - Action on climate change must be stepped up if the climate crisis is to be averted, the International Panel on Climate Change is warning.

Monday - China, Russia and Canada's current climate policies would drive the world above a catastrophic 5deg of warming by the end of the century, according to a study that ranks the climate goals of different countries.

Monday - Why do wildfires seem to be escalating? Despite president Donald Trump's tweet that the California fires were caused by "gross mismanagement" of forests, the answer is more complex, nuanced, and alarming.

16 Nov 18 - Compared with so much ineffective climate activism, the present wave of anti-fossil fuel politics has an important advantage: it resonates better with ordinary people.

16 Nov 18 - A massive crater under Greenland's ice points to a previously unknown climate-altering asteroid impact in the time of humans.

15 Nov 18 - A new study of beetles could explain their global decline – and also be a warning to humankind.
---
14 Nov 18 - The world has so many existing fossil fuel projects that it cannot afford to build any more polluting infrastructure without busting international climate change goals, the global energy watchdog has...
14 Nov 18 - It's been invaded and bombed, had a third of its territory taken over by terrorist groups, hundreds of thousands have been killed and much of its infrastructure has been destroyed. Now, Iraq has...
14 Nov 18 - Decades after plastic became part of the fabric of our lives, a worldwide revolt against its use is under way.
13 Nov 18 - Top oil and gas companies jointly spent around 1 per cent of their 2018 budgets on clean energy, a new study shows.
13 Nov 18 - In 2018, humanity will pump more carbon dioxide into the atmosphere than ever, and yet last year was a record year for renewable energy. What gives?
12 Nov 18 - Scientists once again have confirmed that humankind's actions have triggered ever-greater extremes of rainfall – and an ever-greater rise in disastrous flash floods.
12 Nov 18 - A writer at the top of his game considers climate change, what we can do and what keeps him from despair.
9 Nov 18 - The Carbon Clock showing how much time the world has left before it exhausts its carbon budget has been set back a fraction.
9 Nov 18 - Taxing red meat would save many lives and raise billions to pay for healthcare, according to new research.
9 Nov 18 - Single-use, a term referring to products – often made of plastic – that are made to be used once and thrown away, has been named Collins Dictionary's word of the year for 2018.
6 Nov 18 - The world must thrash out a new deal for nature in the next two years or humanity could be the first species to document our own extinction, warns the United Nation's biodiversity chief.
5 Nov 18 - Greenhouse gases are increasingly disrupting the jet stream, a powerful river of winds that steers weather systems in the Northern Hemisphere.
---