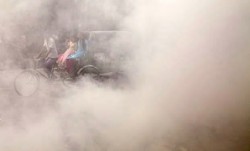 Tuesday - Pollution kills at least nine million people and costs trillions of dollars every year, according to the most comprehensive global analysis to date, which warns the crisis "threatens the continuing survival of human societies".

Tuesday - In the wake of China's announcement earlier this year that it would cut imports of the world's waste there are concerns that much of the lower grade materials will have nowhere else to go.
Tuesday - The UK government might consider providing subsidies for electric bicycles and electric cars as part of a concerted policy effort to get more people cycling.

Tuesday - Credit institutions worth $3000 billion have joined forces to throw their weight behind sustainable development.

Tuesday - The Brazilian Amazon lost 6,624 sq km of forest between August 2016 and July 2017.

Tuesday - Toyota, Mazda, and Denso will jointly establish a new company to develop zero-emission electric cars.

Tuesday - Messing with the Sunday roast proably is a step too far for many people. So how might we create a more sustainable Sunday roast?
---
Friday - The abundance of flying insects has plunged by three-quarters over the past 25 years, according to a new study that has shocked scientists.
Friday - Fiji aims to raise $100 million ($NZ68m) to build resilience to climate change and support a shift to 100 per cent renewable energy.
Friday - UN Environment has partnered with Dutch financial institution Rabobank to establish a $1 billion fund offering grants and loans to businesses interesting in investing in sustainable farming practices.
Friday - A judge has dismissed a Canadian logging company's lawsuit against Greenpeace and another activist group that accused them of running a criminal enterprise through their environmental campaigns.
Friday - Despite efforts to end food shortages, hunger is on the rise again after years of decline, a UN report says.
Friday - Sustainability reporting is not mandatory in Thailand - and yet Thai firms outnumber their Asean peers in the latest Dow Jones Sustainability Indices.
Friday - The contamination of drinking water by toxic firefighting chemicals is the most seminal public health challenge of coming decades, says a US environmental official.
Thursday - Australian Prime Minister Malcolm Turnbull has secured party-room backing to impose new reliability and emissions reduction guarantees on energy retailers and large energy users from 2020.
Thursday - Planting forests and other activities that harness the power of nature could play a major role in limiting global warming under the 2015 Paris agreement.
Thursday - What if every time you sat down for a meal, you threw one-quarter of it in the trash? That's the hidden story of waste in the hospitality industry.
Thursday - France plans to more than double its solar power capacity in the next 10 years and make it easier for citizens to become energy independent.
Thursday - Potatoes and bananas reborn as insulation, peanuts processed into partition boards and mushroom bricks that grow in five days ... just some of the ways the building trade could change its wasteful...
---