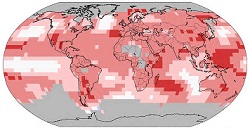 Monday - Last year was the hottest since global records began that was not given an additional boost by the natural climate cycle El Niño, according to new data.

Monday - As Australian sports fans and players swelter through another summer season, questions of stadium design to deal with extreme heat are becoming more urgent.

Monday - The world's largest lithium ion battery has brought much needed flexibility to the South Australian grid, encouraging other Australian states to follow suit.

Monday - Taiyuan, capital of Shanxi province in China, replaced 8000 petrol-powered taxis with electric vehicles in a single year.

15 Dec 17 - Antarctic ice sheet models double the sea-level rise expected this century if global emissions of heat-trapping pollution remain high, according to a new study.

15 Dec 17 - Poland is in no hurry to ditch coal power any time soon but the new prime minister insists nuclear energy and renewable sources are a part of the country's future energy mix.

15 Dec 17 - A European development bank has partnered with city mayors from all over the world to mobilise more than $1.5 billion in urban investment to help combat climate change.
---
15 Dec 17 - Donald Trump's climate adviser George David Banks cut an intriguing, divisive figure at the recent climate talks in Bonn.
15 Dec 17 - Southeast Asia's leading solar energy nation -Thailand - could be the frontrunner in wind energy after renewables developer WEH secured funding for the region's biggest wind power project.
14 Dec 17 - The Earth cannot accommodate our need and greed for food. We must change our diet before it's too late, says George Monbiot.
14 Dec 17 - One of the world's biggest financial services companies is both dumping investments and ending insurance for controversial US oil pipelines.
14 Dec 17 - Germany is the leading nation for recycling, followed closely by Wales and Singapore, according to new research.
14 Dec 17 - A war on waste food in France has helped it secure the top spot in a ranking of countries by their food sustainability.
14 Dec 17 - China is seeking to clean up its overseas investments and is calling for international support.
14 Dec 17 - More than 3500 European utility companies have vowed to lead the low-carbon energy transition, calling on policymakers to accelerate electrification.
14 Dec 17 - When a river flows into the ocean, so does plastic. Lots of it. Globally, rivers transport as much as four million tonnes of plastic out to sea every year.
13 Dec 17 - Eighteen climate scientists from the US and elsewhere have hit the jackpot as France's president, Emmanuel Macron, awarded them millions of euros in grants to relocate to France.
13 Dec 17 - The oil industry has stalled action on climate change from the inside and sold America on fossil fuels – and its influence goes back further than people realise.
13 Dec 17 - After spending years building up its gas-power business, General Electric is trying to figure out how to keep pace in a world that's no longer all that interested in fossil fuels.
---