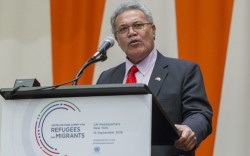 Tuesday - Tuvalu Prime Minister Enele Sopoaga has angril rejected the idea that islanders would exchange maritime rights for Australian citizenship, telling Canberra to focus on breaking its coal addiction

Tuesday - Ireland's struggle with climate change cuts to the heart of people's daily lives and reflects the country's revival after recession: more cars on the road and thriving cattle farms.

Tuesday - Scientists are setting out to explore an Antarctic marine realm that was hidden from the Sun for more than 100,000 years.

Tuesday - Australian scientists say relentless, sustained, and needlessly personal media attacks on those analysing the impacts of the Adani coalmine undermines the role of science.

Tuesday - Governments must pay more attention to food safety, and address the issue in their action plans to tackle climate change, say officials and researchers.

Monday - Dramatic rises in atmospheric methane are threatening to derail plans to hold global temperature rises to 2deg, scientists have warned.

Monday - Climate-related disasters have cost the world $650 billion over the past three years, according to a new report.
---
Monday - US President Donald Trump (https://inhabitat.com/tag/trump) is moving forward with the construction of his Mexican border wall, even if it means sidestepping important environmental laws.
Monday - Residents of a coalmining region in Siberia have been posting videos online showing entire streets and districts covered in toxic black snow that critics say highlight a manmade ecological...
Friday - As a movement grows across the world, young people say they want politicians to protect their interests.
Friday - There's no way Australia achieve the targets five years early without major policy changes, which are unlikely under the current government, says a leading climate scientist.
Friday - While climate change makes dramatic changes to weather and ecosystems on the surface, the impact on the world's groundwater is likely to be delayed, representing a challenge for future generations.
Friday - The discovery that some trees can "remember" heatwaves could help forest managers to deal with the impacts of climate change.
Friday - Australia has been going through one of its hottest and stormiest summers on record and usually temperate Tasmania, its island state (https://tinyurl.com/y4snt4pg), has taken a battering.
Thursday - Here is a climate forecast that climate scientists, meteorologists, politicians, voters and even climate sceptics can check: the next five years will be warm, and will probably help to complete the...
Thursday - Buying organic food is among the actions people can take to curb the global decline in insects, according to leading scientists.
Thursday - The decision by US Senate majority leader Mitch McConnell (R-Ky) to bring up the Green New Deal for a Senate vote is prompting a rush to define the terms of progressive Democrats' ambitious proposal...
Thursday - The market for environmentally sound building materials is changing. If you think bamboo can just be used to grow beans up in your garden, think again.
13 Feb 19 - China and India are leading the world in greening the landscape, a study finds, with the two countries accounting for one-third of the new forests, croplands and other types of vegetation observed...
---