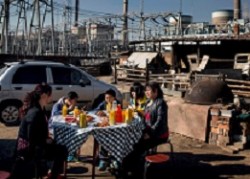 Monday - A set of troubling charts shows how little progress nations have made toward limiting greenhouse-gas emissions.

Monday - California and 23 other states have filed a lawsuit to stop the Trump administration from blocking California's authority to set emission standards for cars and trucks.

Monday - Canberra will become the first city outside Europe to shift from fossil fuel to 100% renewable energy.

Monday - A hoax photo that claims to show rubbish left behind by Australian climate strike protesters is circulating on Facebook, despite being revealed as fake months ago.

Friday - The number of commercial aircraft in operation will more than double in the next 20 years to 48,000 planes worldwide, Airbus has forecast.

Friday - Scientists using new climate models say a bigger heat rise than expected is possible by the end of the century.
Friday - Extending the lifespan of smartphones by just one year would significantly reduce carbon emissions in the European Union, according to a new report .
---
Friday - From transport and housing to food production and fashion, our civilisation is driving climate and ecological breakdown.
Friday - The voting age should be lowered to 16 because today's young people are the ones that face a "toxic inheritance" of environmental crises, a leading think tank has said.
Thursday - Ahead of next week's UN climate summit, noted Australian climate academic BILL HARE takes stock of the world's best and worst performers on climate action - including some surprise success stories.
Thursday - Oil and gas executives are holding an exclusive invitation-only forum with delegates to next week's UN climate summit, in what critics have condemned as an attempt to influence negotiations.
Thursday - The Trump administration is poised to end California's authority to set its own vehicle emissions standards and bar states from establishing their own regulations.
Thursday - Two new studies are making the case that people in high-income countries need to cut back on livestock-based foods, but they're also suggesting that one-size-fits-all recommendations won't work in...
Wednesday - By TIM FLANNERY | In this age of rapidly melting glaciers, terrifying megafires and ever more puissant hurricanes, of acidifying and rising oceans, it is hard to believe that any further prod to...
Wednesday - Electric vehicles could make up nearly half the fleet of passenger cars and trucks by 2040. But oil and gas companies are striking back.
Wednesday - A new tool is tracking automated and otherwise questionable social media accounts as they sow disinformation, discord and division. Climate change is a target.
Wednesday - A petition launched just days before the World Cup opens in Japan calls on the All Blacks to dump their principal sponsor AIG over ties to a controversial Australian coal mine development.
Wednesday - By land and sea, some of the planet's hotspots are already above the temperature agreed by scientists and politicians as the maximum allowable to prevent a disastrous climate crisis.
17 Sep 19 - The public is providing more than $1m per minute in global farm subsidies, much of which is driving the climate crisis and destruction of wildlife, according to a new report.
---