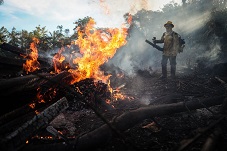 Thursday - Ahead of next week's UN climate summit, noted Australian climate academic BILL HARE takes stock of the world's best and worst performers on climate action - including some surprise success stories.

Thursday - Oil and gas executives are holding an exclusive invitation-only forum with delegates to next week's UN climate summit, in what critics have condemned as an attempt to influence negotiations.

Thursday - The Trump administration is poised to end Californiaís authority to set its own vehicle emissions standards and bar states from establishing their own regulations.

Thursday - Two new studies are making the case that people in high-income countries need to cut back on livestock-based foods, but they're also suggesting that one-size-fits-all recommendations won't work in all cases.
Wednesday - By TIM FLANNERY | In this age of rapidly melting glaciers, terrifying megafires and ever more puissant hurricanes, of acidifying and rising oceans, it is hard to believe that any further prod to climate action is needed.
Wednesday - Electric vehicles could make up nearly half the fleet of passenger cars and trucks by 2040. But oil and gas companies are striking back.

Wednesday - A new tool is tracking automated and otherwise questionable social media accounts as they sow disinformation, discord and division. Climate change is a target.
---
Wednesday - A petition launched just days before the World Cup opens in Japan calls on the All Blacks to dump their principal sponsor AIG over ties to a controversial Australian coal mine development.
Wednesday - By land and sea, some of the planetís hotspots are already above the temperature agreed by scientists and politicians as the maximum allowable to prevent a disastrous climate crisis.
Tuesday - The public is providing more than $1m per minute in global farm subsidies, much of which is driving the climate crisis and destruction of wildlife, according to a new report.
Tuesday - As world leaders converge on New York City for the United Nations Climate Action Summit on September 23, they enter what may be the most consequential week in climate politics since Donald Trumpís...
Tuesday - The White House is not only overturning as many environmental protections as it can - it also wants to significantly change the legal landscape to make it harder to reinstate them.
Tuesday - More Australians are drowning as the country faces record high temperatures, lifesavers have warned.
Tuesday - In 2013, a group of women sat around the kitchen table at Glen House, a country estate in the Scottish borders.
Monday - Two-thirds of Americans believe climate change is either a crisis or a serious problem, with a majority wanting immediate action to address global heating and its damaging consequences, a new poll...
Monday - The Trump administration has repealed an Obama-era policy designed to protect US waterways.
Monday - Big agribusinesses aren't doing enough to stop deforestation in their supply chains, critics say.
Monday - One of the worldís most important institutions in the fight against climate change is also one of the UNís most opaque.
Monday - Itís the ultimate in motoring self-sufficiency Ė an electric car powered by solar panels on the roof.
---