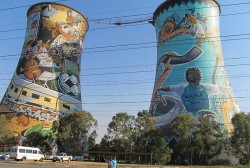 Friday - South Africa is on course to put a price on carbon pollution, after the National Assembly this week passed a long-awaited Carbon Tax Bill.

Friday - Teachers will follow on the heels of striking UK students tomorrow with a protestto demand the national curriculum be reformed to make the climate and ecological crisis an educational priority.

Friday - It's the miracle ingredient in everything from biscuits to shampoo. But our dependence on palm oil has devastating environmental consequences. Is it too late to break the habit?

Friday - Climate change means a big shift for city dwellers worldwide. Americans can look ahead to very different cities as the US climate heads south.

Friday - A growing movement eschews fast fashion in favour of secondhand clothing. Is this the biggest personal change that can be made for the environment?

Thursday - Commodities giant Glencore has bowed to pressure from shareholders to limit coal production for environmental reasons.

Thursday - The scientist who made "global warming" a household term as he fought to popularise the view that greenhouse gases could lead to a dramatic climate change has died aged 87.
---
Thursday - The world's largest tissue-paper companies are being accused of exacerbating climate change and destroying ancient forests to make toilet rolls.
Wednesday - Most European companies have no target for reducing their greenhouse gas emissions even though 80% see climate change as a business risk, a survey has found.
Wednesday - People tend to respond to immediate threats and financial consequences – and Florida's coastal real estate might be on the cusp of delivering that harsh wake-up call.
Wednesday - Renewable energy will be the world's main source of power within two decades, according to BP.
Wednesday - Britain is about to set out plans to overhaul its recycling system, including making plastic packaging producers pay the full cost of dealing with their waste.
Wednesday - The world's biggest animals – the largest birds, the bigger mammals and even reptiles, sharks and amphibians – are in increasing danger of extinction.
Tuesday - Tuvalu Prime Minister Enele Sopoaga has angril rejected the idea that islanders would exchange maritime rights for Australian citizenship, telling Canberra to focus on breaking its coal addiction
Tuesday - Ireland's struggle with climate change cuts to the heart of people's daily lives and reflects the country's revival after recession: more cars on the road and thriving cattle farms.
Tuesday - Scientists are setting out to explore an Antarctic marine realm that was hidden from the Sun for more than 100,000 years.
Tuesday - Australian scientists say relentless, sustained, and needlessly personal media attacks on those analysing the impacts of the Adani coalmine undermines the role of science.
Tuesday - Governments must pay more attention to food safety, and address the issue in their action plans to tackle climate change, say officials and researchers.
18 Feb 19 - Dramatic rises in atmospheric methane are threatening to derail plans to hold global temperature rises to 2deg, scientists have warned.
---