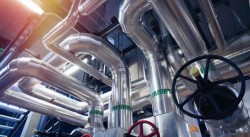 Friday - Low carbon prices are stopping many large plants switching to low-emissions fuels, a report says.

Thursday - Commodities giant Glencore has bowed to pressure from shareholders to limit coal production for environmental reasons.

Wednesday - Cutting carbon subsidies for trade-exposed heavy emitters could see large companies leave the country, says the oil and gas sector.

Wednesday - Renewable energy will be the world's main source of power within two decades, according to BP.

12 Feb 19 - Laboratories can make energy from greenhouse gases, power smartphones with their own radiation, and cut shipping costs naturally. And each could become reality.

11 Feb 19 - Solar electricity generation has a big part to play in New Zealand's low-carbon energy future, says the operator of the national grid.

4 Feb 19 - BP will have to set out how its strategy and investments fit with targets to limit global temperature rise, under a new resolution.
---
22 Jan 19 - The owner of New Zealand's only aluminium smelter says the country could have a bright future producing low-emissions aluminium for a carbon-constrained world.
22 Jan 19 - Food giant Foodstuffs is to get more than a million dollars of public money as part of a drive towards low-emissions vehicles.
11 Dec 18 - BP, Chevron and ExxonMobil face a shareholder challenge to set carbon targets in line with the Paris Agreement, as a green group seeks to repeat its success in pressuring Shell to set environmental...
29 Nov 18 - The process to issue new exploration permits in the last part of the country in which they are allowed is under way.
22 Nov 18 - Growing enough greenery to provide cleaner fuel and slow climate change will need a biofuel land grab: a 10 to 30-fold rise in land devoted to green crops.
20 Nov 18 - Waste fish parts will be used to power ships in a new initiative to use green energy for polluting cruise liners.
16 Nov 18 - New Zealand researchers have created a new plant-based electrolyte that could be the key to making safer and more environmentally friendly batteries.
14 Nov 18 - The Energy Efficiency and Conservation Authority is seeking feedback on its proposed $14 million energy levy-funded activities for next year.
8 Nov 18 - New oil and gas exploration is now banned from New Zealand's waters and from most of its land.
8 Nov 18 - Large-scale hydropower dams are unsustainable in the developing world, according toi new research.
30 Oct 18 - If energy storage were available at sufficiently low cost and high performance, renewable energy would rapidly displace all other generation forms.
30 Oct 18 - A changing energy system is posing "critical questions" for many of the world's largest oil and gas producing countries, the International Energy Agency says.
---