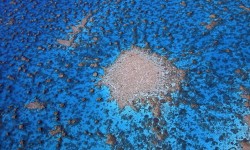 Monday - New Caledonia has agreed to tougher protections around a huge swathe of some of the world's last near-pristine coral reefs, in a move conservationists hail as a major breakthrough.

20 Jul 18 - Palau plans to stop buying diesel and go 100 per cent solar by the end of 2019 - offering a blueprint for other Pacific nations to do the same.

19 Jul 18 - New Zealand's support for Pacific countries threatened by climate change will be under the spotlight in Fiji next week.

3 Jul 18 - Only a handful of Pafific Islands nations have signed up to an insurance scheme that dispenses rapid payouts in a crisis - a situation experts hope to change.

25 Jun 18 - Striking sea-level rise images have sent shockwaves through the Marshallese community and brought some EU ministers to tears.

27 Apr 18 - Low-lying atolls around the world will be overtaken by sea-level rises within a few decades, according to a new study.

4 Apr 18 - Fiji is in a fight for survival as climate change brings almost constant deadly cyclones, says Prime Minister Frank Bainimarama.
---
19 Mar 18 - Rising sea levels are eroding Easter Island and its many archaeological sites, including its iconic moai statues and village remains.
30 Jan 18 - New Zealand and five small states in the area are among the handful of countries that have paid this year's dues to the United Nations' climate change work.
11 Dec 17 - Civil society leaders from more than 100 countries meeting in Suva have called for action on climate-induced displacement.
29 Nov 17 - Rising seas caused by climate change are seeping inside a United States nuclear waste dump on a remote and low-lying Pacific atoll.
20 Nov 17 - While the plight of low-lying Pacific islands should not be ignored, it is just as damaging to assume that their fate is already sealed.
13 Nov 17 - Fiji must spend an amount equivalent to its entire yearly gross domestic product over the next 10 years to counter the challenges of a changing climate.
10 Nov 17 - Many nations have become less vulnerable to natural disasters ranging from cyclones to earthquakes because of improved preparedness, but Pacific island states remain most at risk, a new study shows.
9 Nov 17 - The story of the now-vanished Micronesian island of Nahlapenlohd holds some valuable lessons about recent climate change in the western Pacific.
2 Nov 17 - Pacific Islanders whose homes face eradication by rising sea levels have called on Australia to not fund the Adani Carmichael coalmine, as a new report reveals the worsening impact of climate change...
25 Oct 17 - The 33 islands of Kiribati are under threat from climate change. But the islanders have not given up hope.
16 Oct 17 - Rapa Nui (Easter Island) has become the ultimate parable for humankind's selfishness; a moral tale of the dangers of environmental destruction. But new research paints a very different picture.
9 Oct 17 - New Zealand is denying an accusation that it is cutting its climate aid to the Pacific.
---