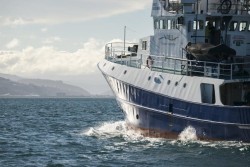 Thursday - Marine heatwave conditions are already occurring in parts of the Tasman Sea and the ocean around New Zealand and looking to become the new normal.

Thursday - Ocean waves are now hitting harder than ever. As the world warms, they gain in energy, impact and height.

Wednesday - Rising temperatures can be charted back to the late 1950s, and the past five years were the five hottest on record.

28 Nov 18 - A plastics-pollution campaigner has given up his attempt to swim across the Pacific - a trip that was to take him through 1600km of the Great Pacific Garbage Patch.

22 Nov 18 - The worldís oceans have lost more than 2 per cent of their dissolved oxygen reservoir over the past five decades.

6 Nov 18 - Plastic rubbish on New Zealand beaches is not only hurting wildlife, itís hurting us, too.

29 Oct 18 - SodaStream has announced the launch of its massive ocean-sweeper, a contraption designed to dismantle plastic waste patches in marine waters.
---
25 Oct 18 - Ocean heat content set a record in the first half of 2018, with more warmth in the oceans than at any time since records began in 1940.
19 Sep 18 - A global call has gone out to combat plastic pollution with plans to name and shame the most pervasive polluting companies.
3 Sep 18 - Better management of fisheries and fishing rights around the world could increase profits and leave more fish in the sea as long as measures to meet climate obligations are taken, new research has...
30 Aug 18 - As the planet warmed at the end of the last ice age, the abyssal Pacific circulation kicked into high gear.
8 Aug 18 - Wildlife in most of the lawless high seas faces an existential threat from fishing, shipping and the military. Next month, a landmark UN conference could finally bring hope.
4 Jul 18 - World Sailing, the governing body for the sport, has launched a trust to support sustainable development in the oceans.
11 Jun 18 - Climate change is warming ocean waters and causing shifts in the distribution and abundance of seaweeds, corals, fish and other marine species.
31 May 18 - An invisible layer of scum on the sea surface can reduce carbon dioxide exchange between the atmosphere and the oceans by up to 50 per cent, scientists have discovered.
22 May 18 - The kelp forests Ė those towering submarine tangles of brown seaweeds Ė might not survive the steady change of ocean chemistry.
21 May 18 - Point Nemo in the Pacific is so far flung that the nearest humans are often those aboard the International Space Station. But even that hasnít saved it from the scourge of microplastics.
9 May 18 - The world has more than 400 dead zones in oceans and lakes where water contains so little oxygen that aquatic life canít survive.
16 Apr 18 - Acting early to lower greenhouse gas emissions can slow the rise in sea levels, say scientists in two new studies.
---