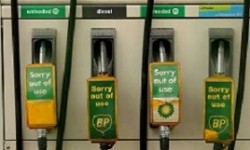 Thursday - Britain will ban all new petrol and diesel cars and vans from 2040 amid fears that rising levels of nitrogen oxide pose a major risk to public health.

Tuesday - Despite Tesla's success, the high risks of mass-producing an electric car from scratch haven't changed all that much.

19 Jul 17 - Faced with China's unwavering plan to accelerate the introduction of electric and hybrid cars, European manufacturers have joined forces with other global producers to plead with Beijing for a 'less ambitious' roadmap.
19 Jul 17 - Carmakers, regulators, legislators and utilities are increasingly working together to boost sales of electric vehicles

18 Jul 17 - Officials will put a plan to cut New Zealand's appalling transport emissions to the Government before the end of the year.

17 Jul 17 - As temperatures rise it may become too hot to fly, with aircraft likelier to be grounded, and more passengers more likely to lose their seats.

12 Jul 17 - The trillion-dollar global shipping industry might soon be forced to curb greenhouse gas emissions under new rules backed by the European Union and China.
---
11 Jul 17 - New Zealanders are buying electric vehicles in "record" numbers, but they are not making a dent in the country's greenhouse gas emissions.
10 Jul 17 - The internal combustion engine had a good run. It has helped propel cars — and thus humanity — forward for more than 100 years.
7 Jul 17 - France will end sales of petrol and diesel vehicles by 2040 as part of an ambitious plan to meet its targets under the Paris climate accord.
6 Jul 17 - All new cars launched by Volvo from 2019 onward will be partially or completely battery-powered, in what the company called a "historic end" to building models that only have an internal combustion...
6 Jul 17 - As millions of Europeans hit the road this month for a summer break, most won't know they're driving on palm oil.
3 Jul 17 - Using surplus electricity from renewables to make hydrogen fuel is starting a new era for all forms of heavy transport.
29 Jun 17 - Wellington researchers hope their technology will help to build the first hybrid-electric jet plane.
26 Jun 17 - Panasonic has started producing a 180-watt array of solar cells that can be put on the roof of a vehicle.
19 Jun 17 - The climate benefits of half New Zealand's electric car fleet will be wiped out by the scrapping of electric train engines in favour of diesels, says an international sustainable energy expert.
19 Jun 17 - An EU trucking lobby group has published a report claiming that trucks are overpaying in taxes and charges compared to the impact of some of their external costs. The report raised a few eyebrows.
14 Jun 17 - Treasury told its ministers that KiwiRail's decision to replace electric locomotives with diesels raised some significant matters, but it wasn't given enough time to assess the situation.
8 Jun 17 - The number of electric cars in the world accelerated past the two million barrier last year, as prices fell and manufacturers launched new models.
---