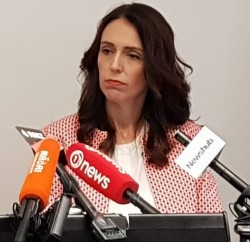 Tuesday - Prime Minister Jacinda Ardern says the Government is pressing ahead at home and abroad with action on climate change.

Tuesday - New Zealand's latest and largest solar farm is being partially funded by cryptocurrency.

Tuesday - Finding ways to greenhouse gas emissions from farming will dominate discussion at the Primary Industries Summit today.

Tuesday - Ten years ago, the Green Party was claiming success in making sustainability mainstream economic thinking.

Monday - One of New Zealand biggest carbon farmers say New Zealand can have its carbon cake and eat it too.

Monday - It's back to the office for MPs this week, with Parliament opening on Wednesday and the Speech from the Throne, outlining the new Government's agenda, on Thursday.

Monday - Ten years ago, for the first time, a buyer looking for spot NZUs was calling for tenders to supply forward units.
---
Friday - Carbon tariffs at the border are on the Government's agenda this term to protect the country's steel, aluminium and cement industries as they decarbonise.
Friday - Spot NZUs opened at $35.75 bid and $35.85 offered on CommTrade this morning, after lasts fixing at $35.80.
Friday - A sustainable farm producing top-quality honey in Northland is the big winner in this year's Sustainable Business Awards announced in Auckland last night.
Friday - Climate activist group Extinction Rebellion says it will target Genesis Energy's headquarters in downtown Auckland this afternoon.
Friday - Ten years ago, Canada's Conservative Government killed attempts to cut the country's greenhouse gas emissions.
19 Nov 20 - Carbon prices are continuing to climb, with sellers now seeking up to $35.90 for spot NZUs.
19 Nov 20 - The tourism and export sectors need to prepare for growing transport costs, Climate Change Commission chair Dr Rod Carr is warning.
19 Nov 20 - Spot NZUs opened at $35.70 bid and $36.00 offered on CommTrade this morning, after last fixing at $35.80 - a new record price.
19 Nov 20 - New Zealand is being accused by countries most vulnerable to climate change of "defaulting on climate survival leadership".
19 Nov 20 - Implementing "stringent" measure on climate change have helped win Prime Minister Jacinda Ardern a prestigious international leadership title previously awarded to Nelson Mandala.
19 Nov 20 - The annual Sustainable Business Awards will be held in Auckland tonight.
19 Nov 20 - Ten years ago, public support for the allocation of free carbon credits to trade-exposed heavy emitters was waning.
---