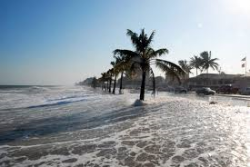 Tuesday - Seas are rising faster, prompting scientists to warn that coastal adaptation plans should be put in place urgently.

23 Jun 17 - Carbon sequestration in soil has the potential to enhance food security and mitigate climate change, says an international team of soil experts.

20 Jun 17 - Worth a look: Here's a short video to put recent climate change and carbon dioxide emissions into the context of the past 800,000 years.

19 Jun 17 - Scientists have documented one of the most extensive melting events ever recorded in West Antarctica, an area that holds enough land ice to raise sea level by about 3.3 metres if it fully melted.

15 Jun 17 - Israeli researchers claim to have pinpointed the first permanent geological change made by humankind, the moment when humans first altered the planet's geology.

14 Jun 17 - Climate change is multiplying existing threats to much of the natural world, and more species face an unparalleled extinction risk.

14 Jun 17 - New Zealand's trapdoor spiders could disappear from many areas as a result of climate change, putting pressure on other species.
---
13 Jun 17 - A study of the interaction between sunlight, air, water and foliage should lead to better longer-term climate forecasts, scientists say.
12 Jun 17 - The Paris Agreement aims to limit global warming relative to a pre-industrial baseline. So, what are "pre-industrial levels"?
9 Jun 17 - NIWA is investing $18 million in new supercomputers that will significantly enhance scientists' abilities to solve crucial issues facing the country.
8 Jun 17 - Wet and dry extremes across the world will become more marked as the planet heats up, evidence from past climates shows.
31 May 17 - New research shows that a permafrost meltdown could cause nitrogen to be released as nitrous oxide, a greenhouse gas that's nearly 300 times more powerful than carbon dioxide.
31 May 17 - Genetically modified crops remain controversial, but scientists still have faith that they will help both to replace fossil fuels and to feed the world.
31 May 17 - Ice cores and records from the Black Death show lead entered the air from human activity – and scientists claim "natural background" levels are zero.
30 May 17 - Nothing, not even the creation of huge plantations of trees to absorb carbon dioxide, is a viable alternative to drastic cuts in greenhouse gas emissions.
30 May 17 - Energy-efficient production could cut global carbon dioxide emissions by a quarter, a new study shows.
30 May 17 - Europe, North America and tropical regions could all face even harder rainfall if fossil fuel emissions continue to increase global warming.
29 May 17 - The human race is in so much trouble that it needs to colonise another planet within 100 years or face extinction, says physicist Stephen Hawking.
26 May 17 - More money for research in Antarctica will help scientists to understand how global warming is affecting Antarctica, says Science New Zealand chief executive Anthony Scott
---