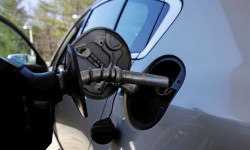 Tuesday - Conserving oil is no longer an economic imperative for the US, the Trump administration has declared in a major new policy statement that threatens to undermine decades of government campaigns.

Tuesday - The Trump administration will shortly release its plan to replace Barack Obama's ambitious attempts to curb greenhouse gas emissions.

15 Aug 18 - Unregulated, unnoticed coal mines across the US are leaking a potent greenhouse gas with the same greenhouse effect as 13 million cars.

13 Aug 18 - Cows will play a key part in a nearly $120 million settlement which, if approved, aims to mitigate the climate impact of one of the largest US natural gas leaks.

10 Aug 18 - California has struck back at the Trump administration over air pollution, unveiling a proposal that would force carmakers to comply with the state's strict standards for tailpipe emissions.

10 Aug 18 - Three scientists explain the unprecedented danger facing the western US and call for new solutions to a growing threat.

9 Aug 18 - Researchers at the Scripps Institution of Oceanography have recorded the warmest sea surface temperature in more than 100 years near a pier in San Diego.
---
8 Aug 18 - Against all prevailing science, the US Environmental Protection Agency is suggesting a "safe" threshold for particulate pollution.
7 Aug 18 - The New York Times magazine has devoted an issue to a single story that explores how close we came to an international climate agreement in 1989 ... and why we failed.
3 Aug 18 - The Trump administration has moved to weaken US vehicle emissions standards and has set up a major confrontation with California by scrapping its ability to enact stricter pollution rules.
1 Aug 18 - California's increasingly ferocious wildfires are not an aberration – they are the new reality, experts believe.
31 Jul 18 - While most of the world recognises the need to leave fossil fuels in the ground, the US is giving the fossil fuel industry billions to extract more.
27 Jul 18 - The Trump administration will no longer require oil drillers, miners and other industries to compensate for damage they cause to public lands.
26 Jul 18 - Money talks, says a study of Washington's political lobbying and its influence on climate change law. Most of the most vocal money comes from big energy.
23 Jul 18 - Baltimore's waterfront revitalisation has become a model for urban development, but sea level rise and extreme weather are putting its future at risk.
23 Jul 18 - A federal judge has dismissed New York City's lawsuit against five of the world's largest oil companies, dealing a setback to local governments that are trying to hold the fossil fuel industry...
20 Jul 18 - The floor of California's Central Valley is slumping, and there is arsenic in the tap water. It seems the two problems are connected.
17 Jul 18 - Uncertainty, hostility and irrelevance are now part of daily life for scientists at the US Environmental Protection Agency.
17 Jul 18 - The gas station chain that was owned by US Vice-President Mike Pence's family has left more than $20 million worth of environmental remediation costs for Indiana taxpayers.
---