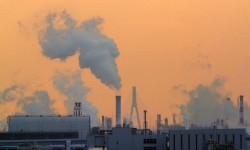 22 Jun 17 - Oil giants ExxonMobil, Shell, BP and Total are among a group of large corporations supporting a plan to tax carbon dioxide emissions.

22 Jun 17 - Major corporations such as Wal-Mart and General Motors have become some of America's biggest buyers of renewable energy.

22 Jun 17 - A heat wave across the American West has sent the mercury above 120degF in places like Phoenix - so hot some airlines have had to cancel flights.

21 Jun 17 - US scientists have just worked out how many lives, and at what price, solar power can deliver.

21 Jun 17 - Shelf-stockers and purveyors of locally sourced organic produce give a wary welcome to Jeff Bezos's buyout of the market that changed their town.

21 Jun 17 - Producing a few pounds of weed can have the same environmental toll as driving across America seven times – harming cities' and states' plans to curb emissions.

16 Jun 17 - As rising seas and demands for fresh water threaten San Francisco area shorelines, the focus is on building tidal marsh.
---
16 Jun 17 - Combined wind and solar energy accounted for more than 10 per cent of US power generation in March - the highest ever share of renewable energy in the nation's power mix.
14 Jun 17 - Jayden Foytlin, a 14-year-old hurricane survivor, is suing the US government over climate change in one of the most surprising environmental lawsuits of our time.
13 Jun 17 - The US has refused to sign up to a G7 pledge that calls the Paris climate accord the "irreversible" global tool to address climate change.
12 Jun 17 - As the Trump administration abdicates its responsibility to address climate change, a groundswell of support has sprung up at the state, city and corporate levels.
9 Jun 17 - Farmers in Virginia can now take advantage of a 30 per cent tax credit for donating surplus crops.
7 Jun 17 - California Governor Jerry Brown has signed an agreement to work with China to lower greenhouse gas emissions.
7 Jun 17 - The most senior career diplomat at the US embassy in China has stepped down, amid reports that he opposes the Trump administration's decision to quit the Paris agreement.
6 Jun 17 - By taking the United States out of the Paris agreement, President Trump has opened up space for China to increase its political and economic influence ... and China is likely to seize that...
6 Jun 17 - The European Union has rejected Donald Trump's offer to renegotiate the Paris climate agreement and pledged instead to bypass Washington to work with US business leaders and state governors to...
6 Jun 17 - More than 1200 US corporations, academic institutions and state and local governments have said they plan to stand behind the Paris climate agreement.
6 Jun 17 - NEW YORK's attorney-general has accused ExxonMobil of misleading investors by using two sets of numbers in its greenhouse gas accounting.
2 Jun 17 - The United States has confirmed this morning that is it pulling out of the Paris Agreement on climate change – but says it will try to get back in under more favourable conditions.
---