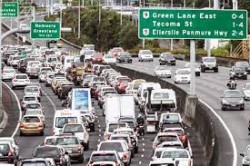 Today 12:00pm - The Government is pre-empting likely criticism from the Climate Change Commission by today announcing a suite of policies tackling greenhouse gas emissions from transport.

11 Dec 20 - A major shareholder in New Zealand's only oil refinery says it should be converted to producing renewable fuels.

9 Dec 20 - Z Energy is sticking with its dream of selling low-emissions biodiesel, albeit with an Australian product because its own production plant has been mothballed.

27 Nov 20 - The aviation sector's climate impact is three times bigger than the effect of its carbon dioxide emissions alone, a new study shows, prompting calls for action.

26 Nov 20 - British Prime Minister Boris Johnson's "jet-zero" goal of a commercial transatlantic flight producing no carbon emissions by 2025 is a gimmick, according to experts, who say technology alone cannot solve the impact of global aviation on the climate crisis.

23 Nov 20 - Just one per cent of the population is responsible for half of global emissions from aviation, a study shows.

19 Nov 20 - The tourism and export sectors need to prepare for growing transport costs, Climate Change Commission chair Dr Rod Carr is warning.
---
19 Nov 20 - Countries have agreed a package of energy-efficiency measures that will allow emissions from global shipping to continue to rise until 2030.
13 Nov 20 - For one Greek island the future is green - it's switching from internal combustion-driven transport to electric vehicles.
9 Nov 20 - One of the biggest investors in Tesla has defended the explosive growth in the US electric carmaker's share price, arguing that it is "far from an aberration".
9 Nov 20 - Aviation is gearing up for big changes in how the industry is regulated, as climate targets bite. The options available to decarbonise planes are plentiful and the challenge now is to invest enough...
6 Nov 20 - Bentley, the luxury carmaker, will stop making fossil-fuel cars by 2030 and aims to be completely carbon-neutral at the same time, in one of the most ambitious plans of any UK car manufacturer in the...
5 Nov 20 - Car manufacturers are shelling out millions of euros on so-called pooling agreements with rival firms in an attempt to avoid big EU fines for missing CO2 reduction targets. Fiat-Chrysler, Ford, Honda...
4 Nov 20 - A 1940s tax-exemption treaty designed to protect the fledgling aviation industry set airlines on a path to high emissions and low regulation.
30 Oct 20 - New Zealand's first electric plane will take to the skies today.
29 Oct 20 - After decades spent extracting fossil fuels from the UK's North Sea, a consortium of oil companies is preparing to pump Britain's greenhouse gas emissions back beneath the seabed to help meet the...
23 Oct 20 - Electric cars will cost the same to make as conventional cars, with internal combustion engines, by 2024, according to new research.
12 Oct 20 - Leaded documents show Exxon plans to increase its carbon production by 17 per cent by 2025 - an increase equivalent to the total annual emissions of Greece.
5 Oct 20 - Refining New Zealand has confirmed cost-cutting measures for next year, but says a decision on whether to stop refining operations altogether is still a while away.
---