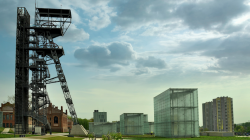 Wednesday - Polish trade unionists see EU and international climate action as terrifying and a threat to their way of life.

Wednesday - New research has found there could be a rise in the demand for copper to improve efficiency and reduce the carbon footprint of the automotive industry.

Wednesday - By the end of this century, sea-level rises alone could displace 13 million Americans. Many states will have to grapple with hordes of residents seeking dry ground.

Wednesday - The Southern Ocean around Antarctica is warming at an alarming rate - twice that of the rest of the world's oceans.

Wednesday - Global waste could grow by 70 per cent by 2050 as urbanisation and populations rise, the World Bank says.

Wednesday - At a power plant in Sweden, a municipal government company is burning rubbish to turn waste into energy.

Tuesday - World oil production will soar to new records over the next five years as a dramatic expansion in demand from airlines offsets the arrival of electric cars, says a report from Opec.
---
Tuesday - The United States stands to lose a lot more from climate change than it realises.
Tuesday - Five years since the Abbott government scrapped the Climate Commission, the environmentalist Tim Flannery says Australia's energy policy remains hostage to lobbyists, political self-interest and "mad...
Tuesday - California coastal cities should be prepared for the possibility that oceans will rise more than three metres by 2100, the state Coastal Commission warns.
Tuesday - Back in the 19th century, when tractors were still pulled by horses and the word "computer" meant a person hired to carry out tedious calculations, climate science made frontpage news.
Monday - The globe-trotting travels of UN environment chief Erik Solheim have been sharply criticised in a draft internal audit as "contrary to the ethos of carbon emission reduction".
Monday - Building walls on the seafloor might become the next frontier of climate science, as engineers seek novel ways to hold back the sea level rises predicted to result from global warming.
Monday - New data suggest that flooding in the Amazon River has dramatically increased by as much as five times in both intensity and frequency in the last 100 years.
Monday - Japanese scientists have developed a sun-powered golden sandwich: an experimental solar panel that they claim could be up to 11 times more effective than most equipment on the market.
Monday - The world will soon have a much clearer picture of how quickly humans are melting Earth's ice and expanding the seas, with data collected by a sophisticated satellite launched by Nasa.
Monday - Parts of Europe's alpine mountain chain are undergoing accelerating melting, as the "eternal" Swiss snow thaws ever faster, threatening both the skiing industry and the nation's water supply.
Friday - Investors are calling on Australian businesses to lift their game in the wake of a report showing they are failing to disclosure their carbon exposure to the market.
Friday - ExxonMobil, Chevron and Occidental Petroleum have joined a global group of oil giants aiming to limit their climate impact.
---