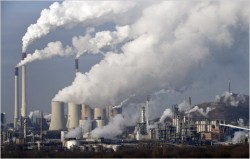 Tuesday - A three-way coalition in Germany is the most likely outcome of a surprising election, putting the Greens in a position to pursue their goal of ending coal power.
Tuesday - With the Coalition still hamstrung by internal divide over a clean energy target, a new report shows Australia is in danger of not meeting its Paris agreement commitments unless it acts soon.

Tuesday - Singapore palm oil company Golden Agri-Resources has been featured in the Dow Jones Sustainability Indices for the first time.

Tuesday - Ontario has signed an agreement with California to enter its joint carbon cap and trade market with Quebec, from next January 1.

Tuesday - A discovery by scientists is prompting fears that melting ice will allow more plastic to be released into the central Arctic Ocean – with huge effects on wildlife.

Tuesday - To cope with worsening heat and drought, countries from the United States to China are turning to "cloud seeding" to boost rainfall.
Tuesday - Damning assessment by one of the UK's chief scientific advisers says global regulations have ignored the impacts of dosing whole landscapes and must change.
---
Tuesday - Animal rights charity Peta is best known for its naked anti-fur stunts, but these days it is more worried about wool.
Monday - It's been 10 years since Apple unleashed a surge of innovation that upended the mobile phone industry. Electric cars could be about to pull the same trick on Big Oil.
Monday - Land rights defenders from 29 countries have written to the UN asking it to act against violent corporate and state-sponsored groups which they say are threatening their lives and trashing the...
Monday - The 2017 North Atlantic hurricane season still has about five weeks to go, but it's already one of the most expensive on record. Repeated storms are stretching the public and private sectors thin.
Monday - European cities are stepping up their efforts on shared mobility, aiming to reduce traffic jams and pollution while generating the most profitable business in this field on the planet.
Monday - Countries with large quantities of waste from forestry, manure or straw from farms are now looking for economic ways to turn them into forms of renewable energy.
Monday - London could reduce its waste by 60 per cent by 2041 through a circular economy approach, says a new report.
Monday - A cache of decaying notebooks found in a crumbling Congo research station has provided unexpected evidence with which to help to solve a crucial puzzle – predicting how vegetation will respond to...
Monday - Evian has introduced its first carbon-neutral bottling facility as part of the company's plans to become 100 per cent carbon neutral by 2020.
Friday - President Daniel Ortega has announced that Nicaragua will sign the Paris Agreement, leaving the US and Syria the only two countries not taking part in the global accord.
Friday - Theresa May has issued a veiled warning to Donald Trump, arguing that his plan to withdraw from the Paris climate change treaty ranks alongside North Korea's nuclear missile tests as a threat to...
Friday - Fiji Prime Minister Frank Bainimarama has urged leaders in New York to look beyond narrow self-interest as he outlined his plans for the COP23 climate talks presidency.
---