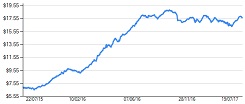 Thursday - Spot NZUs opened today at $17.50 bid and $17.80 offered, after last fixing at $17.70.

Thursday - Homebuyers could take out bigger mortgages if the energy ratings of properties were factored into the lending criteria of banks and building societies, new research has found.

Thursday - Despite warm words about protecting the vulnerable, the island presidency of this year's UN climate talks is showing no urgency on "loss and damage".
Thursday - At the halfway point of the year, 2017 remains the second-hottest year to date — a surprise given the demise of the El Niño that helped to boost temperatures to record levels last year.

Thursday - The next generation will have to pay a $535 trillion bill to tackle climate change, relying on unproven and speculative technology.

Thursday - Australians collectively could slash greenhouse gas emissions by a staggering 70 per cent if they joined forces to become energy and climate trailblazers in their own backyards.

Thursday - In Guatemala, one of the world's largest silver deposits reaps millions for its Canadian owners - but for local farmers the price is their land and even their lives
---
Thursday - The European Union has accepted a UN ruling that found the bloc in breach of international laws requiring the public to have access to justice on environmental matters.
Wednesday - The Chuuk flying fox. The Black-spotted Cuscus. The Fijian crested iguana. The Mariana skink. The greater monkey-faced bat. Poncelet's giant rat. They live on islands in the Pacific and they are...
Wednesday - California lawmakers have voted to extend the state's signature programme for cutting greenhouse gas emissions.
Wednesday - Faced with China's unwavering plan to accelerate the introduction of electric and hybrid cars, European manufacturers have joined forces with other global producers to plead with Beijing for a 'less...
Wednesday - Carmakers, regulators, legislators and utilities are increasingly working together to boost sales of electric vehicles
Wednesday - The head of Australia's biggest energy utility – and its biggest coal generator – says that if any Clean Energy Target is to be effective it has to take into account global climate targets.
Wednesday - Redundant North Sea energy workers are being offered free football tickets to build revolutionary new electricity storage systems.
Wednesday - Geeks are inventing ways to keep Los Angeles cool with products and services that aim to avert environmental disaster – and make a profit.
Tuesday - Humanity's grand experiment in the atmosphere continues, and a new report documents just how far it has gone.
Tuesday - California Governor Jerry Brown and Michael Bloomberg have announced the launch of America's Pledge, which will allow US states, cities and businesses to stay aligned with the Paris Agreement.
Tuesday - An Italian multinational oil and gas company has received permission to move ahead with drilling plans in federal waters off Alaska.
Tuesday - Nearly every county in England has at least one industrial-scale livestock farm, with close to 800 US-style mega farms operating across the UK, new research reveals.
---