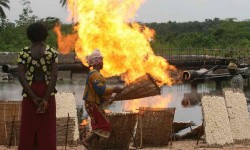 Today 11:00am - The World Bank reckons the 16,000 flares worldwide produce around 350m tonnes of carbon dioxide each year, causing untold harm.

Today 11:00am - Exxon Mobil is under mounting pressure to address the collision course between its business model and climate protection, ahead of its annual general meeting this week.

Today 11:00am - Nothing, not even the creation of huge plantations of trees to absorb carbon dioxide, is a viable alternative to drastic cuts in greenhouse gas emissions.

Today 11:00am - Energy-efficient production could cut global carbon dioxide emissions by a quarter, a new study shows.

Today 11:00am - The Australian government will support the Paris agreement on climate change regardless of whether or not US president Donald Trump pulls out.
Today 11:00am - Europe, North America and tropical regions could all face even harder rainfall if fossil fuel emissions continue to increase global warming.

Today 11:00am - Almost a century of lead mining and smelting has poisoned generations of children in the Copperbelt town of Kabwe in Zambia.
---
Today 11:00am - The number of people employed in the renewable energy sector across the globe could rise to 24 million by 2030.
Monday - One of the biggest contributors to climate change is the agricultural food industry, but the political will to tackle the issue is lacking.
Monday - Donald Trump's intentions regarding US participation in the Paris climate deal remained unknown yesterday.
Monday - The human race is in so much trouble that it needs to colonise another planet within 100 years or face extinction, says physicist Stephen Hawking.
Monday - Abandoned coal shafts could be turned into giant storage devices to hold vast amounts of renewable power.
Monday - New York State is making a $5 billion bet that by making its power cleaner, it can become a magnet for the clean-energy jobs of the future.
Monday - The world's largest floating solar energy platform has has gone on line in China.
Friday - The world's major economies could boost their long-term economic growth by 2.8 per cent with policies that lower greenhouse gas emissions and boost resilience to climate change impacts.
Friday - Pope Francis gave visiting US President Donald Trump a copy of his seminal, 183-page encyclical letter - published in June 2015 - on the subject of climate change. If Trump reads it, what will he...
Friday - The European Food Safety Authority dismissed a study linking glyphosate to cancer following counsel with an EPA official allegedly linked to the maker Monsanto and who figures in more than 20...
Friday - Ocean warming and acidification are hurting the nutritional value - and the taste - of some seafood.
Friday - Sales of electric vehicles in California increased 91 per cent in the first quarter of this year, compared with the same period in 2016.
---