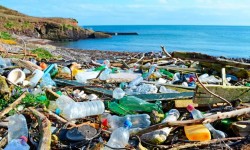 Thursday - The founding companies behind a self-styled alliance to end plastic waste are among the world's biggest investors in new plastic-production plants, according to a European NGO.

Wednesday - Sir David Attenborough has warned that "the Garden of Eden is no more", as he urged political and business leaders from around the world to make a renewed push to tackle climate change.

Wednesday - The French National Assembly has passed a bill explicitly saying palm oil "is not a biofuel" and won't be eligible for tax breaks as of January1, 2020.

Tuesday - Rising global temperatures could lead to many more deaths than the 250,000 a year predicted just five years ago, a new report says.

21 Dec 18 - Even in a world with more intense rain, communities could begin to run short of water.

21 Dec 18 - Policymakers have severely underestimated the risks of ecological tipping points, according to a study that shows 45 per cent of all potential environmental collapses are interrelated and could amplify one another.

21 Dec 18 - The deepest point on Earth is heavily polluted with plastic, scientists have discovered, showing how pervasively the world has been contaminated.
---
20 Dec 18 - Claims of a global warming 'pause' in observed temperatures early this century are unfounded and lack statistical significance, researchers say.
18 Dec 18 - As climate change leads to the flooding of whole countries a "climate passport" might allow the most distressed to settle in countries that have been largely responsible for the impact.
18 Dec 18 - The Pacific yew tree and the Gila monster have an unlikely connection ... and that's good news for the future of the human race.
17 Dec 18 - Through the cacophony of the UN's global climate talks, an Australian farmer is quietly spreading his plan to reforest the world.
17 Dec 18 - It might not look like a pristine expanse of Amazon rainforest or an African savannah, but the patch of bush at the end of the street could be one of the only places on the planet that harbours a...
14 Dec 18 - As delegates at the UN climate summit in Poland discuss the possibility of restraining global warming to 1.5deg, it might sound like a reasonable question to ask how much money it will cost if they...
13 Dec 18 - Green activists are fighting to save us all – so why do their sacrifices warrant punishment?
11 Dec 18 - The start date of an important element of the Paris Agreement would be set 23 years in the future under a proposal from major emerging economies.
7 Dec 18 - This parched world's landlocked basins – they make up a fifth of the Earth's surface – have lost at least 100 billion tonnes of water every year since the century began.
7 Dec 18 - People in rich nations will have to make big cuts to the amount of beef and lamb they eat if the world is to be able to feed 10 billion people, says a new report.
6 Dec 18 - The World Bank will make about $200 billion available to fund action on climate change from 2021-25, helping countries to adapt to the effects of warming and to reduce greenhouse gas emissions.
5 Dec 18 - Eco-friendly British fashion designer Stella McCartney has announced a United Nations charter for Sustainable Fashion.
---