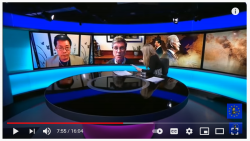 Monday - The BBC's framing of upcoming talks between the US and China as a contest between human rights concerns and climate action came in for a blistering attack from Jeffrey Sachs, a former director of the Earth Institute and professor of economics at Columbia University.

Monday - Australia is like a firefighter holding a hose with one hand and a box of matches in another when it comes to climate change. And according to two Aussie academic, it's only going to get worse.

Monday - From wines in Canada to mushrooms in the Czech Republic, some foods will fare better than others on a hot planet.
Monday - Sustainable energy services provider C-Quest Capital has signed a deal with Shell Eastern Trading to fund the generation of more than 60 million carbon credits using clean cookstoves in Africa.
Monday - Government support and public money investment into coal is the only factor keeping India away from shrinking its coal capacity. The latest data shows that private sector has taken a step back and almost all coal-fired power plants which are under construction belong to the public sector.

Friday - Despite the economic challenges posed by Covid-19, the past year was marked by a growing number of pledges from Asian countries to reach carbon neutrality.

Friday - Federal Reserve Chair Jerome Powell on Wednesday defended the Fed's increasing scrutiny of the threat that climate change could pose to the health of the United States' banks.
---
Friday - Climate change appears to be high on the agenda for tech billionaires like Elon Musk, Jeff Bezos and Bill Gates but some are questioning whether they're focusing their efforts on the right areas.
Friday - Just three per cent of the world's land remains ecologically intact with healthy populations of all its original animals and undisturbed habitat, a study suggests.
Friday - Cash-short Africa will need "frugal innovation" based on simple, local solutions to deal with serious and growing problems, from climate change to a surging youth population and a lack of jobs,...
Friday - Media Release - Oxygen Consulting in collaboration with the Sustainable Business Council (SBC), Sustainable Business Network (SBN) and Auckland University of Technology (AUT) have launched their 2021...
Thursday - Europe is building or planning to build €87 billion worth of fossil gas infrastructure in a continued expansion of pipelines and LNG terminals, despite the need to halve emissions by 2030.
Thursday - Rainforests are prized for storing carbon, but Mexico's cactuses are also vital to climate cooling, and provide leather too.
Thursday - Youth activists are uniting to form a list of demands before President Biden's Earth Day summit.
Thursday - Thirteen thousands scientists have declared that climate change is the biggest environmental emergency to beset the earth in millennia.
Thursday - In Amsterdam, a group of forward-thinking people decided to go with the flow. Schoonschip, a self-sustaining floating community of more than 100 residents, boasts innovative technology like 500 solar...
Wednesday - THE Northern Territory could lose one-third of its doctors because of the ever-increasing heat, according to a new study ringing alarm bells for all regional areas.
Wednesday - Landscape News reports that the newly popular field of soil microbiome restoration research could provide a major new tool for carbon capture.
Wednesday - At any moment, on any school day, the entire future of the Quileute Tribe is at risk.
---