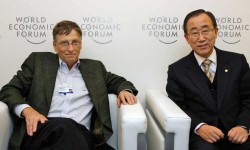 Thursday - Far more must be invested in adapting to warming, says a new global commission that aims to rebuild political will after the US withdrawal from the Paris Agreement.

Thursday - The Bank of England has told Britain's banks and insurers they must come up with credible plans for protecting themselves against risks from climate change and that they might need to hold more capital.

Thursday - A lawyer for a group of young Americans suing the federal government over climate change said a judge's decision to allow the suit to move forward should clear the way for a trial to begin this month.

Thursday - Climate researchers must understand the past before they can understand the future. But across huge swaths of the world, scientists simply don't have the data they need.

Thursday - The Greens have been the big winners at the weekend elections by attracting new voters in Belgium, Luxembourg and Bavaria.

Thursday - Stark warnings from the United Nations ahead of a make-or-break summit in Poland in December have propelled climate change up the political agenda in Europe.

Wednesday - Economist Jeffrey Sachs has criticised successive Australian governments for "defending a 19th or 20th century industry" rather than taking decisive action on climate change, saying Australia should be "exporting sunshine, not coal".
---
Wednesday - The UK is taking a tentative step towards a radical "green" future with zero emissions of greenhouse gases.
Wednesday - US President Donald Trump, speaking during a hurricane recovery briefing in Georgia, said he believes "there is something there" when asked about climate change, but once again cast doubt on the...
Wednesday - More than 300 mammal species have been eradicated by human activities, say researchers.
Wednesday - Trouble is brewing for the world's beer drinkers, with climate change set to cause dramatic price spikes and supply shortages, according to new research.
Tuesday - The drive for genetic selection means cattle are increasingly vulnerable to deadly new epidemics that could emerge as the climate warms.
Tuesday - The IPCC 1.5deg report wasn't strong enough and downplayed the full extent of the real climate threat, some scientists believe.
Tuesday - As she considers setting a date for the UK emissions to hit net-zero, UK energy and clean growth minister Claire Perry said fracking for new gas resources remained "pragmatic policy".
Tuesday - Australia's chief scientist Alan Finkel says the question facing the nation's energy future is not about renewables versus coal but how best to create "a whole-of-economy emissions reduction...
Tuesday - The lush green lawns surrounding many homes, businesses, parks and other outdoor spaces might not be the greatest idea, according to scientists.
Monday - One of the world's leading climate scientists, James Hansen, has launched a scathing attack on the UK government's fracking programme, accusing ministers of aping Donald Trump and ignoring scientific...
Monday - Incentives for consumers to buy hybrid and electric cars rather than diesel or petrol alternatives have been slashed by the UK government, adding thousands of pounds to the price of a new...
Monday - Sometime this month, a million electric vehicles will have been sold in the United States. But does it matter?
---