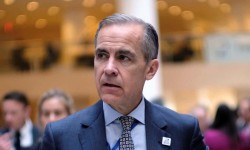 Tuesday - The global financial system faces an existential threat from climate change and must take urgent steps to reform, the governors of the Bank of England and France's central bank have warned.

16 Apr 19 - A New Zealand carbon market pioneer has died.
15 Apr 19 - More than 4500 Amazon employees have urged the company to take aggressive action on climate change and reduce its carbon footprint.

8 Apr 19 - New Zealand's Reserve Bank is joining central banks across the Pacific in preparing for the impacts of climate change on the region's monetary systems.

8 Apr 19 - With electric vehicle sales climbing, utilities are investing in thousands of new EV charging stations, recognising that if they don't move now, they could lose out on a growing and increasingly competitive market.

4 Apr 19 - Saudi Arabia's state oil company has emerged as the most profitable business in the world, racking up profits of $111.1bn in 2018 to overtake Apple.

26 Mar 19 - Warren Buffett's home state of Nebraska is dealing with the aftermath of record flooding, but don't expect the billionaire investor to jump to the conclusion that climate change is responsible.
---
15 Mar 19 - Four of New Zealand's largest emitters are joining forces to supply their own carbon credits to meet obligations under the Emissions Trading Scheme.
15 Mar 19 - Bitcoin can't be green – even when it is powered by renewable energy, an expert says.
26 Feb 19 - The days of ignoring carbon prices and the risks associated with climate change are over, businesses are being told.
26 Feb 19 - Insurers say there is a risk of a climate change-related slump in property prices leading to financial turmoil.
26 Feb 19 - A new PwC survey has found that responsible investment and sustainable development are become more of a priority for private equity companies.
29 Jan 19 - Armed with social media and growing economic clout, Gen Z is best positioned to influence business practices, rather than global climate agreements.
26 Nov 18 - Companies on the New Zealand Stock Exchange have a long way to go on sustainable reporting, a new report shows.
22 Nov 18 - Three New Zealand-owned banks are the new targets of anti-fossil-fuel campaigners.
21 Nov 18 - A coalition of business leaders known as the Energy Transitions Commission has backed proposals for radical changes to industries, including steel, cement, shipping and aviation, to cut their...
15 Nov 18 - Businesses will soon be able to price and trade carbon without the help of governments by using blockchain technology, says a social enterprise about to launch a new carbon platform.
15 Nov 18 - Directors of companies in the "brown" economy might struggle to attract money as investors switch to the green economy, says Chapman Tripp.
7 Nov 18 - The amount of energy required to mine one dollar's worth of bitcoin is more than twice that required to mine the same value of copper, gold or platinum.
---