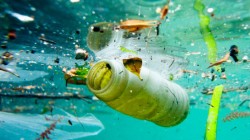 Monday - More than 50 species of fish have been found to consume plastic trash at sea ... bad news, not only for fish but potentially for humans who eat fish.

15 Aug 17 - The deep past has cruel lessons for the near future, for example how ocean oxygen depletion can stifle the marine world. It could recur.

14 Aug 17 - Scientists have long known about the anomalous "warming hole" in the North Atlantic Ocean, an area immune to warming of Earth's oceans.

25 Jul 17 - A stretch of coral reef off Mexico is the testing ground for a new idea that could protect fragile environments around the world - insurance.