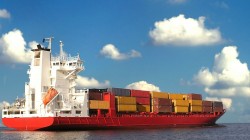 Today 10:00am - Zero-emissions shipping will be a commercial reality by the end of next decade, according to a pledge JUST made by shipping giants.

Friday - The number of commercial aircraft in operation will more than double in the next 20 years to 48,000 planes worldwide, Airbus has forecast.
18 Sep 19 - Electric vehicles could make up nearly half the fleet of passenger cars and trucks by 2040. But oil and gas companies are striking back.

16 Sep 19 - One of the world's most important institutions in the fight against climate change is also one of the UN's most opaque.
16 Sep 19 - It's the ultimate in motoring self-sufficiency – an electric car powered by solar panels on the roof.

12 Sep 19 - Human demand for transport will increase as the climate warms, becoming its own feedback loop, researchers say.

11 Sep 19 - Time is running out for European carmakers, which have waited until the last minute to try to meet ambitious EU emissions targets and face billions in fines if they fail to comply.
---
21 Aug 19 - An all-electric ferry, purported to be the world's largest, has completed its first voyage between two Danish islands, as the shipping sector gears up for strict new emission laws.
19 Aug 19 - Margins for European high sulphur fuel oil, used to power ships, sank last week as preparations for a global shift to cleaner maritime fuel next year start to weigh on prices.
19 Aug 19 - Arresting the soaring increase in flying will be the first step towards a sustainable system of international travel – but how can it be done?
13 Aug 19 - Worried about how New Zealand's zero-carbon drive will affect your activities? Spare a thought for the country's steam locomotive enthusiasts facing a world without coal.
9 Aug 19 - Tomorrow's fuel could be delivered at all-but zero carbon cost by vast airship tankers, sailing round the world at stratospheric heights on the jet stream.
7 Aug 19 - E-scooters now operating in many cities around the world might have a larger total environmental impact than the transportation modes they displace.
30 Jul 19 - Four major international carmakers have made a deal with California to build more fuel-efficient vehicles while reducing greenhouse gas emissions.
29 Jul 19 - Germany's Greens want to make domestic flights 'largely obsolete' by 2035.
22 Jul 19 - Someday, electric cars will just be cars. The big question is when will that happen?
17 Jul 19 - THE UK Government has handed Jaguar Land Rover a loan guarantee of more than $NZ900,000 to help to accelerate its progress in the global electric vehicle race.
16 Jul 19 - Emissions from government vehicles are falling.
9 Jul 19 - New emissions standards for cars could cut New Zealand's greenhouse gas emissions by more than five million tonnes over 20 years.
---