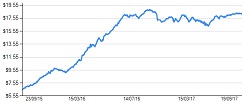 Thursday - Spot NZUs opened today at $18.20 bid and $18.30 offered, after last fixing at $18.20.

Thursday - A coalition of global corporations has launched a global campaign to accelerate the shift to electric vehicles.

Thursday - India, the world's fifth-largest car market is readying for a stupendous transformation: moving completely toward electric vehicles by 2030.

Thursday - Right now, the capability of the UN's institutions to understand, prepare and respond to climate change risks is terrifyingly inadequate.
Thursday - Ignore Angela Merkel's reputation for supporting green initiatives. The German chancellor's record on environmental policy has been a disaster.

Thursday - Asian beverage giant San Miguel Corporation announced that it will soon discontinue its bottled water business as part of its strategy to limit plastic waste.
Thursday - The Arctic ice cap melted to hundreds of thousands of square miles below average this summer, according to data just released.
---
Thursday - The discovery of aquatic architecture has led scientists to compare the behaviour of cephalopods to humans – but octopus city life is no utopia.
Wednesday - Former UN climate chief Christiana Figures has called on the EU to step up regulatory action against deforestation in the global south by tackling emissions of imported agricultural goods like beef,...
Wednesday - The impact of rising temperatures on the Caspian Sea is gradually reducing the world's largest inland body of water to catastrophically low levels.
Wednesday - Vancouver - the mountain-fringed, bicycle-friendly, pot-loving host of the 2010 Winter Olympics - wants to be the world's greenest city by 2020.
Wednesday - Finance for electrification of developing countries is flowing at less than half the rate needed to achieve the global goal of universal access by 2030.
Wednesday - London has welcomed the opening of its first package-free food store opened In an effort to eliminate plastic pollution.
Tuesday - Countries are nearing agreement on how to tackle shipping's carbon footprint, UN shipping chief Kitack Lim has told an industry conference, but resistance to a binding cap remains.
Tuesday - The terms of the Paris Agreement are set in stone, the EU, China and Canada agreed at a summit in Montreal at thge weekend, while Washington was forced to deny that the US is planning to stay in the...
Tuesday - California governor Jerry Brown's climate coalition list of city, state and national governments nears 200 and is shifting climate diplomacy beyond the caprices of national leaders.
Tuesday - Fishing has dramatically reduced the number of senior fish left in the ocean.
Monday - Worldwide emissions of carbon dioxide from the burning of fossil fuels could grow 16 per cent by the year 2040 from the levels of 2015, the year by which the Paris Agreement intended to reverse the...
Monday - The Trump administration is opening the door to offering its own replacement for former President Barack Obama's landmark climate regulation — rather than just erasing it altogether.
---