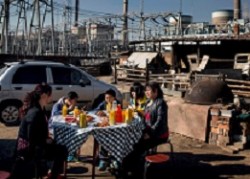 Monday - A set of troubling charts shows how little progress nations have made toward limiting greenhouse-gas emissions.
Friday - Extending the lifespan of smartphones by just one year would significantly reduce carbon emissions in the European Union, according to a new report .

Friday - From transport and housing to food production and fashion, our civilisation is driving climate and ecological breakdown.

Thursday - Ahead of next week's UN climate summit, noted Australian climate academic BILL HARE takes stock of the world's best and worst performers on climate action - including some surprise success stories.

Thursday - Two new studies are making the case that people in high-income countries need to cut back on livestock-based foods, but they're also suggesting that one-size-fits-all recommendations won't work in all cases.

18 Sep 19 - A new tool is tracking automated and otherwise questionable social media accounts as they sow disinformation, discord and division. Climate change is a target.

18 Sep 19 - By land and sea, some of the planet's hotspots are already above the temperature agreed by scientists and politicians as the maximum allowable to prevent a disastrous climate crisis.
---
17 Sep 19 - The public is providing more than $1m per minute in global farm subsidies, much of which is driving the climate crisis and destruction of wildlife, according to a new report.
17 Sep 19 - In 2013, a group of women sat around the kitchen table at Glen House, a country estate in the Scottish borders.
16 Sep 19 - Big agribusinesses aren't doing enough to stop deforestation in their supply chains, critics say.
12 Sep 19 - The changing climate has brought to the holy temple of cricket a raft of possible consequences, from more drinks breaks to playing in shorts.
11 Sep 19 - Countries could reap a $7 trillion economic prize by investing in measures to adapt to a changing climate, according to an analysis backed by Ban Ki-Moon, Bill Gates and the head of the World Bank.
5 Sep 19 - The world's biggest producers of meat, dairy and seafood are failing to tackle the enormous impact they are having on the planet through deforestation, the routine use of antibiotics and greenhouse...
5 Sep 19 - Humanity risks marching off a cliff unless governments take immediate action to fight the climate emergency, says former US secretary of state John Kerry.
4 Sep 19 - China's multi-trillion dollar global investment plans could blow the 2deg warming limit set by the Paris Agreement without curbs on pollution, a new study says.
3 Sep 19 - Where does the idea of the planet having 11 or 12 years left to act on climate change come from, and what does it actually mean?
3 Sep 19 - Officials in Moscow say the Russian government plans, after several years' hesitation, to ratify the global agreement, the Paris climate accord, within the next few months.
30 Aug 19 - Many of the nearly two million Muslim pilgrims who journey to Saudi Arabia annually will soon be in severe danger of death from the extreme heat.
28 Aug 19 - Smoke from Canadian forest fires was so vast it bore comparison with a nuclear bomb's mushroom cloud – and the global cooling that might unleash.
---