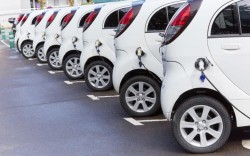 Tuesday - Twenty new electric vehicle projects, including a 58-tonne truck to carry dairy products and developing a qualification for EV technicians, are to receive government funding.

Tuesday - All of Norway's short-haul airliners should be entirely electric by 2040, says the country's airport operator, cementing the Nordic nation's role as a pioneer in the field of electric transport.

12 Dec 17 - The shipping industry will be urged to align with international climate goals under a declaration to be launched at a climate summit in Paris today.

7 Dec 17 - Carmakers putting huge investment into electric vehicles at the behest of governments a having to live with the fear of potentially choking on unsold inventories.

6 Dec 17 - Some of the world's most established carmakers are starting to reveal what they've been working on for the EV world.

5 Dec 17 - Pure electric cars cost less over four years than petrol or diesel cars in the UK, US and Japan, researchers say, but China is set to lead the market.

4 Dec 17 - Electric cars remain something of a novelty, commanding premium prices and presenting charging challenges, but another kind of electric vehicle has been gaining momentum: the e-bike.
---
1 Dec 17 - A partnership between Rolls-Royce, Airbus and Siemens aims to commission a hybrid electric aircraft prototype by 2020.
30 Nov 17 - Almost every sixth car sold in the world will be electric by 2025 ... and those cars are more likely to be emblazoned with Tesla's logo than BMW's.
29 Nov 17 - Scientists are closer to making solar-powered jets a reality. They now know how to make jet fuel out of air, sunlight and water.
27 Nov 17 - The Government is in talks to keep electric locomotives on the main trunk line.
20 Nov 17 - Elon Musk has unveiled Tesla's first electric semi-truck at an event in Los Angeles that also included the surprise reveal of a new Tesla sports car.
7 Nov 17 - Staying home is going to be the new normal if we're going to "bend the curve"on carbon emissions.
6 Nov 17 - WASHING DC has become the latest testing ground for what happens when technology and good intentions meet the real world.
6 Nov 17 - CHINA'S LARGEST ride-sharing company is to build its own electric-vehicle charging network.
31 Oct 17 - The electric bus would have let Londoners enjoy clean air early in the 20th century, saving but for the dishonesty and double-dealing which promoted the internal combustion engine instead.
30 Oct 17 - Shipping lobbyists at UN talks were "prostitutes employed by our racket to try to put one over on the public', says a marine industry veteran.
24 Oct 17 - Toyota, Mazda, and Denso will jointly establish a new company to develop zero-emission electric cars.
16 Oct 17 - A new plan to accelerate production of biofuels for passenger planes has drawn stinging criticism from environmentalists who argue that most of the world's rainforests might have to be cleared to...
---