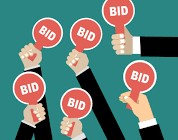 Friday - The Government is looking at setting a maximum bid lot to stop a handful of entities getting control of the New Zealand carbon market.

Friday - The National Party says it supports farmers who marched on Parliament yesterday demanding a halt to the planting of carbon forests on productive farmland.

Friday - Ten years ago, the International Energy Agency said carbon prices would need to double to make clean technologies economically viable, and warned that fossil fuel use would need to peak by 2020.
Thursday - New Zealand's zero-carbon legislation becomes law today.

Thursday - Since the Chinese market closed, 58 per cent of New Zealand's plastic waste now goes to Asian countries with weak regulations and high rankings as global sources of marine plastic pollution.

Thursday - Ten years ago, the Government was being warned that an Emissions Trading Scheme without a cap on total emissions could cost a lot more than officials were predicting.

Wednesday - Climate-saving projects could get an easier run under the Resource Management Act, says a Government-commissioned panel of experts.
---
Wednesday - Forestry bodies say the organisers of a protest in Wellington tomorrow over the planting of forests on farmland are misleading the public.
Wednesday - Mercury is going ahead with plans to build the country's largest windfarm.
Wednesday - Ten years ago, a select committee was deadlocked over proposed changes to the Emissions Trading Scheme.
Tuesday - The Government denies large areas of productive farmland are being converted to forestry as the country tries to offset its greenhouse gas emissions.
Tuesday - Experts planning for increased fire risk in New Zealand as the planet warms are looking across the Tasman in alarm at "catastrophic" fire conditions.
Tuesday - Ten years ago, emerging carbon markets were being likened to the sub-prime mortgage market that led to the Global Financial Crisis.
11 Nov 19 - The Government is asking the public whether companies should be forced to disclose their carbon and climate risk.
11 Nov 19 - A new environment-based political party supports emissions pricing, wants the Climate Change Commission to set the methane reduction target, and says it would be reluctant to get rid of a ban on new...
11 Nov 19 - Ten years ago, energy companies Meridian and Contact were saying that a switch to electric vehicles would be worth $8.2 billion to the economy over 50 years.
11 Nov 19 - Last week's passing of the zero-carbon act doesn't mean an end to climate-change-related rallies in Wellington.
8 Nov 19 - The zero carbon act is law; bring on reform of the Emissions Trading Scheme.
8 Nov 19 - The Government should have to at least respond to official reports on the state of New Zealand's environment and climate, says the Parliamentary Commissioner for the Environment.
---