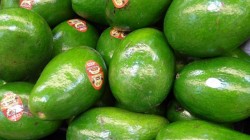 Friday - The trade in avocados, cherries and blueberries could suffer from a proposed short-term measure to cut carbon emissions from shipping, according to Chile and Peru.

Friday - Intensive farming and pesticides could turn Europe's farmland into a desert that ultimately imperils all humans, say the authors of report on the decline of bird numbers.

Friday - A severe heatwave off Western Australia eight years ago hammered the world's largest region of seagrass, triggering the release of as much as nine million tonnes of carbon dioxide.

Friday - Green bonds issuance needs to hit $1 trillion a year by 2020 to support international climate goals, says former UN climate chief Christiana Figueres.

Friday - A major new report for the UK Government has highlighted the huge economic potential presented by the world's oceans.

Thursday - A difference of just half a degree of global warming, from 1.5deg to 2deg, would mean that an additional five million people worldwide will have the land where their homes are located permanently submerged underwater.
Thursday - Courts are a new front line of climate action with cases against governments and oil firms spiralling, and while victories have so far been rare the pressure for change is growing.
---
Thursday - People tend to like cities, and have been congregating in them ever since the invention of agriculture, 10,000 or so years ago. That's why we call it civilisation, explains science fiction writer KIM...
Thursday - The world's largest green bond fund has been launched with the intention of building a $2 billion purse.
Thursday - More than 71,000 hectares of protected countryside, including national park land, in the south-east of England are at risk from a new wave of oil drilling.
Wednesday - More than five billion people could suffer water shortages by 2050 due to climate change, increased demand and polluted supplies, according to a UN report.
Wednesday - THE PARIS accord is built on speculative tech fantasies. It can not save us from climate catastrophe, says Dr JASON HICKEL of the University of London.
Wednesday - Climate change will result in a massive movement of people inside countries and across borders, creating "hotspots" where tens of millions pour into already crowded slums, according to the World Bank.
Wednesday - London's reputation as a leading financial centre has now extended to include the field of sustainability.
Tuesday - The Turnbull government is one step closer to being able to implement its proposed national energy guarantee, courtesy of Jay Weatherill's departure as the South Australian premier after Saturday's...
Tuesday - A bill will be brought before the UK parliament this year mandating, for the first time, measures and targets to preserve and improve the health of the nation's soils.
Tuesday - At this rate, it's going to take nearly 400 years to transform the energy system.
Tuesday - Adidas chief executive Kasper Rorsted has let slip that his company last year sold one million shoes made out of ocean plastic.
19 Mar 18 - .Mammoth engineering projects are planned in Antarctica and Greenland to help slow down the disintegration of the planet's main glaciers.
---