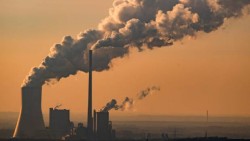 Thursday - New climate minister James Shaw might have wowed the world with his rhetoric at international climate talks last week, but it's on the policies of his predecessor that New Zealand is still being judged.

Wednesday - Deciding whether to let a new opencast coal mine go ahead on the West Coast will be the first real test of the new government's conservation policy, says an anti-coal mining lobby group.
14 Nov 17 - New Zealand might yet come good on the issue of dodgy carbon credits.

10 Nov 17 - The new energy minister expects carbon to be priced into all energy projects.

8 Nov 17 - The National Party should offer cross-party support for the Zero Carbon Act, providing the country with stable climate-change policy, says Gareth Morgan's The Opportunities Party.

3 Nov 17 - The Government should have reassessed New Zealand's emissions-reduction target after the International Panel on Climate Change released its new report, the High Court says.
1 Nov 17 - Former climate minister Paula Bennett sought advice on forming a cross-party agreement on climate change.
---
1 Nov 17 - The new government says it will pull climate policy into line with Pacific aspirations.
31 Oct 17 - A global failure to cut greenhouse gas emissions will see New Zealand farmers face demands for major production cuts, the world's largest milk-processor is warning.
30 Oct 17 - New Zealand cannot afford an Emissions Trading Scheme that doesn't work, say the guardians of the $36.4 billion New Zealand Superannuation Fund - and that means bringing the agricultural sector into...
27 Oct 17 - New climate minister James Shaw next week will detail to officials his plans for the Emissions Trading Scheme.
27 Oct 17 - The food destroyed by droughts would be enough to feed a country with a population the size of Germany's every day for a year, says the World Bank.
26 Oct 17 - The Productivity Commission is being told not to let economic growth rule its investigation into cutting New Zealand's greenhouse gas emissions.
26 Oct 17 - Scientists are warning that climate change will harm New Zealanders' health.
25 Oct 17 - The agricultural sector will be held responsible for no more than 5 per cent of its greenhouse gas emissions – and that's if the new Government brings it into the Emissions Trading Scheme.
20 Oct 17 - Carbon prices are rising on the back of the new government, hitting their highest level in a year within an hour of the market opening today.
19 Oct 17 - Whichever political party forms a government this afternoon has a critical job preparing New Zealand for the impacts of climate change and in getting the country's emissions under control.
18 Oct 17 - New Zealand's Emissions Trading Register is ready to trade in other "environmental commodities" such as water.
16 Oct 17 - Spending up to $20 billion on buying foreign carbon credits will be a "severe imposition" on the economy and will delay New Zealand's decarbonisation, warns our former climate ambassador.
---