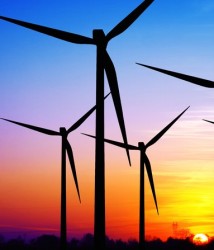 Thursday - The mayor of Georgetown, Texas, Dale Ross is 'a good little Republican' – but ever since his city weaned itself off fossil fuels, he has become a hero to environmentalists.

16 Oct 17 - Fires, drought and warmer temperatures were to blame for excess carbon dioxide in the atmosphere during the 2015-2016 El Niño, say scientists with NASA's Orbiting Carbon Observatory-2.

12 Oct 17 - Hurricane-hit Puerto Rico has urged Tesla to turn the islands into a flagship project that can show the world what solar and batteries can do.

10 Oct 17 - "The war on coal is over," EPA Administrator Scott Pruitt declared as he announced that this week he will sign a new rule overriding Barack Obama's Clean Power Plan.

9 Oct 17 - Logging and pipeline companies are using a new legal tactic to seek damages from Greenpeace and other groups. The long-shot cases are having a chilling effect.

9 Oct 17 - President Trump's nominee to be second in command at the Environmental Protection Agency helped to kill bipartisan climate legislation during his time as a top Senate aide.

5 Oct 17 - Donald Trump's home city aligns its strategy with tough 1.5deg global warming limit, in defiance of the president's hostility to climate action.
---
4 Oct 17 - As communities rebuild after hurricanes, a study shows that wetlands can significantly reduce property damage.
3 Oct 17 - US Energy Secretary Rick Perry has taken sweeping steps to buttress a pair of financially strapped nuclear plants under construction and to redefine how coal and nuclear plants are compensated for...
3 Oct 17 - In the Trump administration's list of dos and don'ts, "climate change" is out and "resilience" is in.
2 Oct 17 - President Trump is preparing to repeal Barack Obama's Clean Power Plan. But what would take its place remains a mystery.
26 Sep 17 - Ontario has signed an agreement with California to enter its joint carbon cap and trade market with Quebec, from next January 1.
25 Sep 17 - The 2017 North Atlantic hurricane season still has about five weeks to go, but it's already one of the most expensive on record. Repeated storms are stretching the public and private sectors thin.
19 Sep 17 - The terms of the Paris Agreement are set in stone, the EU, China and Canada agreed at a summit in Montreal at thge weekend, while Washington was forced to deny that the US is planning to stay in the...
19 Sep 17 - California governor Jerry Brown's climate coalition list of city, state and national governments nears 200 and is shifting climate diplomacy beyond the caprices of national leaders.
18 Sep 17 - The Trump administration is opening the door to offering its own replacement for former President Barack Obama's landmark climate regulation — rather than just erasing it altogether.
12 Sep 17 - A new film tells the story of Crossett, Arkansas – a small town dominated by a Koch brothers-owned paper mill, blamed for dumping cancer-causing chemicals.
11 Sep 17 - The US president's dismissal of scientific research is doing nothing to protect the livelihoods of ordinary Americans.
8 Sep 17 - The corporate backlash is growing against Donald Trump's withdrawal from the Paris climate accord, with Mars launching a $1bn sustainability plan and an M&M's campaign centred on renewable energy.
---