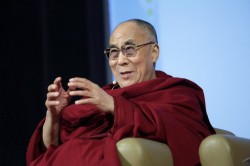 Friday - As the world's most powerful leaders prepare to come together for the President Joe Biden's virtual climate summit, the Dalai Lama and 100 other Nobel Prize winners have a clear message for them: Keep fossil fuels in the ground.

Friday - Africa needs reliable energy infrastructure, not rich-world hypocrisy, argues Vijaya Ramachandran in Nature.
Friday - Three senior climate scientists argue the concept of net zero emissions effectively serves as a blank cheque for the continued burning of fossil fuel.
Friday - We have 10 years to prevent irreversible damage to the planet due to climate change. Despite this urgency, critical tools such as carbon offsetting, have been tarnished by claims of greenwashing, writes Bronson Griscom, Senior Director, Natural Climate Solutions at Conservation International.
Friday - EU carbon allowance prices hit an all-time high of over Eur47/mt April 22 as bullish mood continued in the market in the wake of the EU's informal agreement on a revamped 2030 emissions reduction goal.

Friday - MEDIA RELEASE - New Zealandís first government funded space mission has taken a Ďgiant leapí with Auckland Universityís Te PŻnaha ¬tea-Auckland Space Institute announced as the permanent host of the New Zealand based mission control centre for a global methane tracking satellite.

Friday - MEDIA RELEASE - An appeal for economic transformation at President Bidenís Climate Summit, 22-23 April 2021
---
Thursday - The IEA predicts that carbon dioxide emissions could rise to 33 billion tonnes in 2021 Ė the second largest rise in emissions ever.
Thursday - The European Commission is proposing an overhaul of the union's corporate sustainability reporting and disclosure framework.
Thursday - President Bidenís climate summit, starting today, will see him aiming to bring Brazilís leader Jair Bolsonaro into line.
Thursday - The Columbia Journalism Review reports that journalism is entering a new phase of solution-focused climate reporting.
Thursday - Teen Vogue takes a look at environmental racism and how it impacts on people of colour.
Wednesday - When President Joe Biden introduced his $2 trillion infrastructure plan, he mentioned ďclimateĒ only once and jobs 28 times.
Wednesday - Cities in the Netherlands want to make their air cleaner by banning fossil fuel delivery vehicles from urban areas from 2025.
Wednesday - Californians alone use more power playing games and heating their pools than entire countries in Africa
Wednesday - With income from sequestering carbon in its forests, California's Yurok tribe has supported youth programming, housing, road improvement, and businesses development.
Wednesday - Two former prime ministers, Kevin Rudd and Malcolm Turnbull, write the world shouldnít give up hope on Australia just yet
Wednesday - MEDIA RELEASE - In meeting virtually with President Joe Biden and 39 other world leaders, PM Jacinda Ardern should press home the need to confront the current global economic model based on limitless...
Tuesday - Chinese President Xi Jinping slammed the European Unionís plan for a carbon border levy in a call with the leaders of France and Germany on Friday (16 April), according to state media.
---