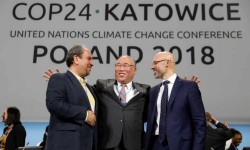 Monday - Fractious UN climate change talks in Poland ended with a deal on putting the Paris agreement into practice – but much else left unresolved

Monday - Sydney and Melbourne have committed themselves to phasing out coal, in a move at odds with the Australia's aggressively pro-coal national government.

Monday - London mayor Sadiq Khan has outlined his new climate change plan, designed to protect people from floods, fires and political upheaval.

Monday - Through the cacophony of the UN's global climate talks, an Australian farmer is quietly spreading his plan to reforest the world.

Monday - It might not look like a pristine expanse of Amazon rainforest or an African savannah, but the patch of bush at the end of the street could be one of the only places on the planet that harbours a particular species of endangered animal or plant.

Friday - China has signalled it is open to following "uniform" global climate change rules, shifting from its usual push for a clear division of responsibilities for rich and poor countries.

Friday - As delegates at the UN climate summit in Poland discuss the possibility of restraining global warming to 1.5deg, it might sound like a reasonable question to ask how much money it will cost if they fail.
---
Friday - US scientists have found a new way to cut or offset 22% of the greenhouse gas emissions from American factory chimneys, car exhausts and power stations -- better land use.
Friday - All 16,000 buses in the fast-growing Chinese megacity of Shenzhen are now electric, and soon all 22,000 taxis will be, too.
Friday - Whyalla's death notice has been written a number of times but the South Australian industrial town's future took a big step forward in 2017 when British-based industrialist Sanjeev Gupta bought the...
Thursday - Record carbon prices have failed to convince the Government that the price cap should be lifted immediately.
Thursday - Permanent forests are to come into the Emissions Trading Scheme, but there's no decision yet on recognising the carbon stored in timber products and whether landowners will be able to average out...
Thursday - The Government wants to open the New Zealand carbon market to international trading again.
Thursday - Insider trading is to be banned from New Zealand's carbon market.
Thursday - UN Secretary-General António Guterres has made a dramatic intervention to revive flagging climate talks in Poland by flying back to the conference and preparing a personal call to Chinese President...
Thursday - Competing visions of climate justice have alienated Saudi Arabia from other developing countries at UN climate talks in Poland.
Thursday - Green activists are fighting to save us all – so why do their sacrifices warrant punishment?
Wednesday - If all governments achieve their largely insufficient climate targets, the world will see 3deg of warming by 2100, twice the 1.5deg limit they agreed in Paris three years ago, says the Climate Action...
Wednesday - Indigenous peoples clinched a deal in Poland that will give them a voice in global climate change negotiations, but only after conceding to a push to put national sovereignty above their rights.
---