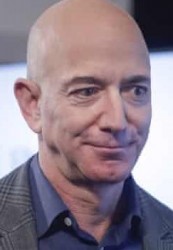 Wednesday - Jeff Bezos, the Amazon founder and Washington Post owner, has announced that he is donating $10 billion to save the Earth's environment – barely a month after it was revealed Amazon threatened to fire employees who spoke out about the company's role in the climate crisis.

Tuesday - Carbon pricing is emerging as central to international climate negotiations, the Mercator Climate Institute says.

Monday - The Earth had its hottest January in recorded history last month, according to the National Oceanic and Atmospheric Administration.

Monday - Christiana Figueres, leader of the 2015 Paris Agreement, talks about her new book, The Future We Choose, and why it's crunch time for humanity.

Monday - As the climate warms in the decades ahead, billions of acres, most of them in the northern hemisphere, will become suitable for agriculture and could, if ploughed, emit a massive, planet-altering amount of greenhouse gases.

Friday - BP's new chief executive Bernard Looney has outlined plans to cut the company's carbon emissions from its operations and barrels produced to net-zero by 2050.

Friday - Two scientific studies of the number of insects splattered by cars have revealed a huge decline in abundance at European sites in two decades.
---
13 Feb 20 - Air pollution from burning fossil fuels is responsible for more than 4 million premature deaths around the world each year and costs the global economy about $US8 billion ($NZ12.37 billion) a day,...
13 Feb 20 - The BBC will produce a television series about 17-year-old climate activist Greta Thunberg.
12 Feb 20 - The Green Swan brings a clear message from people who should know: bankers say the climate crisis means major change lies ahead.
12 Feb 20 - Medical experts are concerned that young people's mental health is being particularly hit by reality of the climate crisis.
11 Feb 20 - Microsoft co-founder Bill Gates is hoping to hit the seas in the world's first hydrogen-powered superyacht - and it will set him back around $US830 million.
11 Feb 20 - The deaths of two butterfly conservationists have drawn focus to a troubling tangle of disputes, resentments and violence.
10 Feb 20 - Mushroom, pineapple and algae: it sounds like the topping for a rather unusual pizza. In fact, they could be the crucial ingredients in the wardrobe of the future as growing numbers of designers try...
4 Feb 20 - The Internet of Things can be used to develop smarter and more effective ways of managing and reducing waste.
3 Feb 20 - The world's tropical forests are losing their ability to remove CO2 from the atmosphere, while boreal forests are absorbing emissions at an increasingly fast rate, a new study finds.
31 Jan 20 - Climate breakdown and the global crisis of environmental degradation are increasing violence against women and girls, while gender-based exploitation is in turn hampering our ability to tackle the...
30 Jan 20 - The world's biggest tech companies fuelled a record surge in the amount of renewable energy sold directly to global corporations last year, according to new figures.
29 Jan 20 - A sense of climate emergency is permeating the global consciousness thanks to high-profile campaigning, but many of us have been slow to actually make changes in the way we live.
---