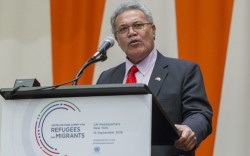 Tuesday - Tuvalu Prime Minister Enele Sopoaga has angril rejected the idea that islanders would exchange maritime rights for Australian citizenship, telling Canberra to focus on breaking its coal addiction

Tuesday - Australian scientists say relentless, sustained, and needlessly personal media attacks on those analysing the impacts of the Adani coalmine undermines the role of science.

15 Feb 19 - There's no way Australia achieve the targets five years early without major policy changes, which are unlikely under the current government, says a leading climate scientist.

15 Feb 19 - The discovery that some trees can "remember" heatwaves could help forest managers to deal with the impacts of climate change.

15 Feb 19 - Australia has been going through one of its hottest and stormiest summers on record and usually temperate Tasmania, its island state (https://tinyurl.com/y4snt4pg), has taken a battering.

12 Feb 19 - Australia could reach the equivalent of 100 per cent renewables by 2032, if the current rates of installation of wind and solar continue, says a new report.

11 Feb 19 - Environmental groups are cheering a decision in NSW's Land and Environment Court that found the emissions of greenhouse gases and resulting climate change from a proposed coal mine were among the reasons to reject the project.
---
7 Feb 19 - Australia's summer sports obsession could face interruptions as extreme weather events increase.
4 Feb 19 - AUSTRALIA sweltered through the hottest month in its history in January and climate experts say temperatures are rising faster than predicted.
22 Jan 19 - It was 48.9C last Tuesday in Port Augusta, South Australia, an old harbour city that now harvests solar power.
20 Dec 18 - Australia will experience more extreme heat, longer fire seasons, rising oceans and more marine heatwaves.
17 Dec 18 - Sydney and Melbourne have committed themselves to phasing out coal, in a move at odds with the Australia's aggressively pro-coal national government.
14 Dec 18 - Whyalla's death notice has been written a number of times but the South Australian industrial town's future took a big step forward in 2017 when British-based industrialist Sanjeev Gupta bought the...
6 Dec 18 - Politicians around Australia are proposing ambitious plans to export renewable energy from Australia, using high-voltage power lines laid under the oceans.
5 Dec 18 - Indian mining multinational Adani has announced that it will self-fund a significantly smaller coal mine in Queensland, after failing to secure finance from more than 30 domestic and international...
4 Dec 18 - The Western Australia city of Kwinana is using a somewhat obvious, simple and cost-effective system of nets to prevent waste from entering its waters.
3 Dec 18 - Thousands of schoolchildren across Australia walked out of class on Friday to demand action by the federal government on climate change.
3 Dec 18 - By most accounts, Adelaide's giant lithium-ion battery - the world's largest - has been a remarkable success. But there are some concerns that have so far escaped scrutiny.
27 Nov 18 - The relief from Victoria's stunning election result last weekend was palpable.
---