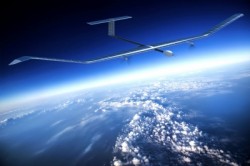 Monday - Airbus has unveiled plans to manufacture a solar plane which will fly unmanned high in the sky.

Thursday - Finding a place to charge your electric car is about to get easier.

Thursday - The extreme heat that has come with climate change is prompting aircraft manufacturers to test their fleets for increasingly hotter temperatures.

13 Jul 18 - Tesla founder Elon Musk says his new factory in Shanghai - the company's first outside the US - will build 500,000 electric cars a year.

10 Jul 18 - Volkswagen's next Beetle will be a completely new, all-electric model with four doors.

29 Jun 18 - Brazil and China are behind a push to allow billions of tonnes of old carbon credits to be used to offset future growth in pollution by airlines.

29 Jun 18 - TESLA CEO Elon Musk is talking about his plans for an over-sized electric ute. He calls the concept "a pickup truck that can carry a pickup truck".
---
28 Jun 18 - Europe has little to gain from trying to decarbonise the unwieldy shipping sector with liquefied natural gas, according to a new study.
26 Jun 18 - Lots of questions remain unanswered about how urban systems will work with the introduction of self-driving vehicles.
21 Jun 18 - Norway has tested a two-seater electric plane and predicted a start to passenger flights by 2025 if new aviation technologies match a green shift that has made Norwegians the world's top buyers of...
13 Jun 18 - Daimler, the largest truck manufacturer in the world, is eyeing up the prizes to be won from electric vehicles.
5 Jun 18 - Italian-American carmaker Fiat Chrysler will stop producing diesel-fuelled passenger vehicles within three years,
1 Jun 18 - Lamborghini wants to build a super e-car, but has no faith in today's battery technology to do the job. The Italian carmaker says the answer is likely to be rechargeable side panels.
29 May 18 - Walking and cycling programmes in New Plymouth and Hastings are paying good returns on investment by cutting greenhouse gas emissions and improving health, a new study shows.
29 May 18 - BP will invest $20 million in an Israeli startup that claims to offer five-minute electric-vehicle charging with new-generation batteries.
28 May 18 - The increasing popularity of electric vehicles might create a crunch for supplies of cobalt in the early-to-mid 2020s, miners and analysts say.
25 May 18 - Oil demand is set to face an even bigger threat from fuel-efficient engines than from electric vehicles over the next two decades, according to Bloomberg New Energy Finance.
24 May 18 - Sales of new electric vehicles will reach 11 million within the next eight years, according to new analysis.
22 May 18 - Concerns over urban air quality and the rise in global temperatures have spurred technological innovation by car makers, meaning that the era of dirty diesel is now over.
---