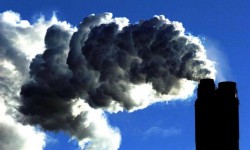 Monday - The largest-ever group of institutional investors has called on governments around the world to urgently increase their efforts to meet the Paris climate change agreement goals.

Monday - Four big oil and gas producers blocked UN climate talks from welcoming the most influential climate science report in years, as a meeting in Poland descended into acrimony.

Monday - Ocean-front homes could be demolished along California's coastline under a groundbreaking proposal to preserve the state's made-for-movies beaches before they're destroyed by rising seawater.

Monday - Airlines are failing to take up the most efficient planes in sufficient numbers to make a significant dent in their carbon dioxide emissions, says a new study.

Monday - Among the tributes paid to former US president George H.W. Bush has been plenty of reflection on his war record – but less on how he handled himself during the early skirmishes of the climate battle.

Friday - Beating climate change would save at least a million lives a year, the World Health Organisation has told the UN climate summit in Poland, making it a moral imperative.

Friday - International leaders are in Katowice debating the world's warming climate - but seldom mentioned is Indonesia, one of the largest emitters of greenhouse gases.
---
Friday - This parched world's landlocked basins – they make up a fifth of the Earth's surface – have lost at least 100 billion tonnes of water every year since the century began.
Friday - Melting on Greenland's ice sheet has gone into overdrive, with meltwater runoff increasing 50 per cent since the start of the industrial era and continuing to accelerate, new research shows.
Friday - The world's biggest shipping company, Maersk, wants to slash its carbon emissions to zero by developing a new kind of container ship to ply the oceans.
Friday - People in rich nations will have to make big cuts to the amount of beef and lamb they eat if the world is to be able to feed 10 billion people, says a new report.
Thursday - Global carbon emissions will jump to a record high in 2018, says a report released at the Katowice climate summit, dashing hopes a plateau of recent years would be maintained.
Thursday - Private finance and large investors will play a central role at the COP24 in Katowice. But before we pin our hopes on finance to solve climate change, there are some things we need to ask ourselves.
Thursday - The urgency for decisive action is the imperative for COP24. The UN must press on with four major strands for meeting the Paris 1.5deg target.
Thursday - The World Bank will make about $200 billion available to fund action on climate change from 2021-25, helping countries to adapt to the effects of warming and to reduce greenhouse gas emissions.
Thursday - Politicians around Australia are proposing ambitious plans to export renewable energy from Australia, using high-voltage power lines laid under the oceans.
Thursday - China has seen a bumper year for electric car sales, so it's no surprise that a number "new energy vehicles", as EVs are referred to in China, were the stars of the Guangzhou Auto Show.
Wednesday - French leader Emmanuel Macron's defeat by the gilets jaunes movement over a proposed eco-tax rise is likely to come as a painful lesson for environmental policymakers at UN climate talks in Katowice.
Wednesday - The coalition that built the Paris Agreement has broken down, leaving UN climate chief Patricia Espinosa with few powerful friends to call on to secure a deal in Katowice.
---