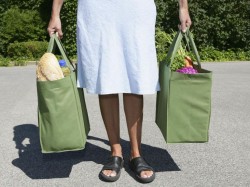 Monday - San Francisco is banning reusable shopping bags to prevent outside germs from entering grocery stores.

3 Apr 20 - Former US president Barack Obama has urged voters to "demand better" of the government after the Trump administration rolled back a key Obama-era fuel standard intended to combat climate change.

31 Mar 20 - The Trump administration's unprecedented decision to suspend enforcement of US environmental laws amid the covid-19 crisis throws a lifeline to the oil industry.

25 Mar 20 - Ten miles north of Pensacola, Florida, an aging chemical plant, its tanks, smokestacks and stainless steel pipes sprawling across hundreds of acres, is a climate killer hiding in plain sight.

17 Mar 20 - It only took 10 debates, a worldwide pandemic, and the winnowing of the Democratic field down to two men in their late 70s — but the American public finally got to hear a substantive debate about climate change.

16 Mar 20 - In a globalised world, the US economy cannot escape the effects of a global pandemic, geopolitical upheaval, and the subsequent plunge in oil prices.
11 Mar 20 - Honolulu city officials suing eight oil companies say climate change already is having damaging effects on the city's coastline, and lays out a litany of catastrophic public nuisances.
---
9 Mar 20 - An influential climate-denial think tank bankrolled by President Donald Trump's far-right billionaire donors has laid off nearly a dozen staffers amid financial troubles, according to three former...
9 Mar 20 - On April 28, 2019, four retirees and a 20-year-old student were arrested for planting a vegetable garden on the railroad tracks at Zenith Energy, an oil distribution facility in Oregon.
2 Mar 20 - Television news is covering little more than the tip of the climate change iceberg, a new US survey shows.
13 Feb 20 - President Trump's proposed budget for fiscal 2021 calls for significant reductions to US environmental programmes at federal agencies, including a 26 per cent cut to the Environmental Protection...
7 Feb 20 - In his State of the Union address to a divided Congress, President Trump president has extolled his own role in making the nation the world's leading oil and natural gas producer.
4 Feb 20 - Protest groups plan to sue the US Environmental Protection Agency for failing to regulate aircraft emissions after a 2016 agency determination that those emissions pose a danger to public health.
30 Jan 20 - New Jersey will become the first US state to require that builders take into account the impact of climate change, including rising sea levels, in order to win government approval for projects.
30 Jan 20 - Amazon has threatened with dismissal hundreds of employees who are demanding the company adopts more eco-conscious practices.
30 Jan 20 - General Motors will invest more than $2 billion in its Detroit-Hamtramck assembly plant to make the facility the automaker's first devoted entirely to electric vehicles.
11 Dec 19 - Exxon Mobil has prevailed in a lawsuit in which the energy giant was accused of downplaying the toll climate change regulations could take on its business.
9 Dec 19 - Texas is leading the way to a "looming carbon timebomb" as US output of oil and gas is forecast to rise by 25 per cent over the next decade.
6 Dec 19 - US president Donald Trump has described climate change as important to him, saying clean air and clean water were top of his environmental agenda.
---