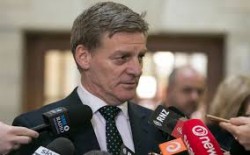 Monday - Carbon News is keeping count of the number of times political leaders talk in the lead-up to the September 23 general election about the biggest issue the world faces.

Monday - Federated Farmers is warning politicians of "consequences" if agricultural emissions are brought into the Emissions Trading Scheme before other countries put a carbon price on farming.

Friday - New Zealand's coal consumption is climbing.

Friday - Carbon sequestration in soil has the potential to enhance food security and mitigate climate change, says an international team of soil experts.
Thursday - The Government is refusing to release briefing papers on proposed new coal mines on the Buller Plateau.

Thursday - An Otaki company with a plan to turn mountains of waste tyres into biofuels says the key to success is processing them at multiple sites around the country.

Wednesday - Parts of the agricultural sector are calling for farming to be included in the Emissions Trading Scheme and for a price on water.
---
20 Jun 17 - New Zealand's two largest cities are failing to cut greenhouse gas emissions because of the Government's lack of action on climate change, new research shows.
19 Jun 17 - The climate benefits of half New Zealand's electric car fleet will be wiped out by the scrapping of electric train engines in favour of diesels, says an international sustainable energy expert.
16 Jun 17 - New Zealand needs to set strong environmental limits and make polluters pay for the damage they do to the environment, the OECD says.
16 Jun 17 - A climate declaration backed by at least some parts of the business community will be launched in New Zealand on Sunday.
15 Jun 17 - The dairy industry is acknowledging it needs to cut greenhouse gas emissions.
15 Jun 17 - New Zealand's claims that its commercial fisheries are sustainably managed are under fire from international scientists.
15 Jun 17 - Almost half New Zealand businesses say sustainability reporting should be mandatory, a new survey suggests.
14 Jun 17 - Treasury told its ministers that KiwiRail's decision to replace electric locomotives with diesels raised some significant matters, but it wasn't given enough time to assess the situation.
13 Jun 17 - New Zealand could have a thriving biofutures industry, producing clean products from waste and cutting greenhouse gas emissions, if it put as much effort into addressing climate change as it puts...
12 Jun 17 - EDITORIAL | Queensland's drive to develop a $100-million-a-year industry turning agricultural waste into bioproducts is exactly the type of thing New Zealand should be doing.
12 Jun 17 - The Government is spending $260,000 reviewing the extent of coastal litter problems.
9 Jun 17 - Prime Minister Bill English says he has received no advice on the impact climate change could have on the economy.
---