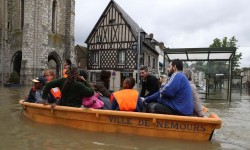 Friday - A new study highlights the urgent need to adapt urban areas across Europe to cope with floods, droughts and heatwaves.
Friday - Floating windfarms are likely to be the next large-scale development in renewable energy.

Friday - Former UN secretary-general Ban Ki-moon will take over as head of a global organisation promoting sustainable economic growth.

Friday - Everyday items such as soaps, perfume, paint and pesticides contribute as heavily to certain sorts of air pollution as cars and trucks.

Friday - The plastics industry is changing fast, and the way our food and products are packaged could look totally different in just a few years.

Friday - Nearly half of the world's pastureland is experiencing notable changes in precipitation, driving up the risk to grazing and herding communities.

Thursday - Mazda is saying what everyone knows: the internal combustion engine is going to power the vast majority of cars for the next 50 years.
---
Thursday - International bans on single-use plastic items such as carrier bags will dent growth in oil demand over the next two decades, according to BP.
Thursday - The Anthropocene began in 1965, according to signs left on Campbell Island by the world's loneliest tree.
Thursday - The Earth's largest animal group faces a new threat. Insects – not just rare species, but common insects, too – might become less genetically diverse.
Thursday - Climate change is thundering down the pitch and could seriously affect the way cricket is played in the years ahead.
Wednesday - A court will decide tomorrow whether German cities can ban heavily polluting cars, potentially wiping hundreds of millions of euros off the value of diesel cars on the country's roads.
Wednesday - Labor Party leader Bill Shorten has declared there is a role for coal in Australia, and characterised the controversial Adani coalmine as just "another project".
Wednesday - The OECD has encouraged governments to start taxing CO2 emissions more aggressively while warning that current taxation levels are not enough to fight climate change effectively.
Wednesday - From rising temperatures preventing take-off to rising seas flooding runways, aviation needs to adapt to changes already grounding flights around the world.
Wednesday - Singapore will charge carbon polluters a new carbon tax from 2019.
Tuesday - Scotland is making progress towards becoming a world leader in renewable energy.
Tuesday - Nearly 60 Australian industrial sites have been given the green light to increase crbon emissions, cancelling out cuts paid for by the Coalition governmet using public money.
Tuesday - Eunice Foote's career highlights the subtle forms of discrimination that have kept women on the sidelines of science.
---