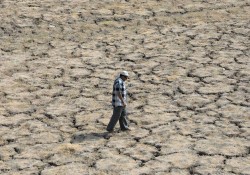 Tuesday - Rising global temperatures could lead to many more deaths than the 250,000 a year predicted just five years ago, a new report says.

Tuesday - It was 48.9C last Tuesday in Port Augusta, South Australia, an old harbour city that now harvests solar power.

Tuesday - Sea-ice cover in Antarctica shrank rapidly to a record low in late 2016 and has remained well below average. But what's behind this dramatic melting and low ice cover since?

Tuesday - Tesla is cutting its full-time staff headcount by about 7 per cent, as it tries to reduce the price of its cars and boost margins, CEO Elon Musk has announced

21 Dec 18 - Spot NZUs opened at $25.00 bid and $25.10 offered this morning, after last fixing at $25.05.

21 Dec 18 - Miami's poor are being pressured to leave their high-ground homes as rising sea levels threaten the city's wealthy coastal suburbs.

21 Dec 18 - Even in a world with more intense rain, communities could begin to run short of water.
---
21 Dec 18 - Policymakers have severely underestimated the risks of ecological tipping points, according to a study that shows 45 per cent of all potential environmental collapses are interrelated and could...
21 Dec 18 - Strange as it might sound, the coal-promoting host of this year's climate negotiations, Poland, has one of the strongest carbon prices in the world.
21 Dec 18 - The deepest point on Earth is heavily polluted with plastic, scientists have discovered, showing how pervasively the world has been contaminated.
20 Dec 18 - Spot NZUs opened at $24.85 bid and $25.00 offered this morning, after last fixing at $24.85.
20 Dec 18 - Australia will experience more extreme heat, longer fire seasons, rising oceans and more marine heatwaves.
20 Dec 18 - EU legislators have reached agreement over a proposed reform of electricity market rules that includes a 2025 cut-off date for coal subsidies, and a special clause for Poland.
20 Dec 18 - The Californian Air Resources Board has revealed its plan to have an all-electric bus fleet in California by 2040.
20 Dec 18 - Claims of a global warming 'pause' in observed temperatures early this century are unfounded and lack statistical significance, researchers say.
20 Dec 18 - Christmas shoppers in Europe are being warned to avoid plastic toys after they appeared in more than half of EU intergovernmental alerts for products containing banned chemicals this year.
19 Dec 18 - Spot NZUs opened at $24.70 bid and $24.95 offered this morning, after last fixing at $24.82.
19 Dec 18 - Decisions made from now to 2020 will determine to what extent Earth remains habitable.
19 Dec 18 - The European Union has agreed to a goal of cutting carbon emissions from cars by 37.5 per cent in a decade, finally settling differences between vehicle-producing countries and...
---