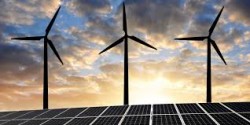 Thursday - An extra $460 billion a year needs to be invested in the low-carbon economy globally over the next 12 years to limit climate warming to 1.5deg, a new paper says.

11 Jun 18 - Developing a sustainable hydrogen energy industry will be on the agenda for talks between New Zealand and Japan this week.

11 Jun 18 - A UK company has completed a test plant for its liquid air energy storage technology which it hopes will be a long-duration challenger to lithium-ion storage and will avoid the pitfalls that have stymied similar startups.

23 May 18 - New Zealand's greenhouse gas emissions could be cut by more 640,000 tonnes a year by burning wood instead of coal in boilers in the Otago region alone.

21 May 18 - Officials have confirmed that at the rate we're using it, New Zealand has about 10 and a half years' worth of natural gas reserves.

17 May 18 - As climate change warms the Earth, one significant concern is the cooling crisis, the quest for energy-hungry artificial ways to keep ourselves cool.

15 May 18 - A pilot plant being built in Sweden will produce steel using hydrogen from renewable electricity. The only emissions will be water vapour.
---
14 May 18 - Technology has been unveiled that could drastically cut greenhouse gas emissions from aluminium production, in a development that could transform the way one of the world's most common materials is...
10 May 18 - Natural gas is not a transition fuel to a low-carbon economy – and the Government should go further than just banning all new offshore exploration licences, a new report says.
10 May 18 - More than 10 million people are working in the renewable energy industry. In 2017 alone, the sector added more than 500,000 jobs globally.
8 May 18 - Covering 0.06 per cent of New Zealand's land with solar panels would provide enough power for the country's total energy needs, a new study says.
3 May 18 - The world's war on coal is making its biggest producers a lot richer, at least for now.
17 Apr 18 - New Zealand could slice thousands of tonnes off its greenhouse gas emissions by turning industrial food waste into fertiliser and energy, says a new report.
17 Apr 18 - As solar power booms, businesses are exploring ways to ensure valuable components don't end up in landfills.
12 Apr 18 - The drive to decarbonise New Zealand's energy production has taken a step forward with the Government's announcement that there will be no new offshore oil exploration.
12 Apr 18 - Royal Dutch Shell is demonstrating how tough it is for a massive, 100-year-old oil company to become a friend to the climate.
10 Apr 18 - Solar photovoltaic and wind power are rapidly getting cheaper and more abundant – so much so that they are on track to entirely supplant fossil fuels worldwide within two decades.
10 Apr 18 - The world must urgently agree controls on solar geoengineering to weigh up its possible risks and benefits before deciding to go ahead, one expert says.
6 Apr 18 - Internal company documents uncovered by a Dutch news organization show that Shell had a deep understanding, dating at least to the 1980s, of the science and risks of global warming caused by fossil...
---