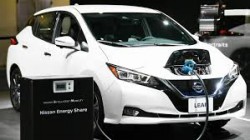 Wednesday - The price of electric vehicles must be subsidised if New Zealand is to meet its commitment to the Paris Agreement, a new report says.

Wednesday - After several years of all-electric cars dominating the annual list of greenest vehicles, 2020 brings a surprise – a resurgence of the hybrid.

12 Dec 19 - A plane billed as the first commercial aircraft running entirely on electricity has taken to the skies in Canada.

5 Dec 19 - New Zealand will sign up to new international maritime regulations to reduce ship emissions and lift air quality around ports and harbours.

5 Dec 19 - Air New Zealand has begun trialling edible coffee cups with customers in the air and on the ground.

27 Nov 19 - Toyota New Zealand says it is testing the New Zealand market for hydrogen vehicles as part of a drive to cut greenhouse gas emissions.

26 Nov 19 - According to a recent report, SUVs are the second-biggest cause of the rise in global carbon dioxide emissions during the past decade.
---
21 Nov 19 - Not everyone is convinced that climate sins can be absolved through projects based on simple carbon accounting.
20 Nov 19 - Exhausts from dirty heavy oils used in ships leave a telltale trail of such dense cloud that they can be tracked from space.
15 Nov 19 - The world's thirst for oil will continue to grow over the next two decades, with climate-damaging emissions climbing until at least 2040, the IEA says.
12 Nov 19 - BMW has called for European policymakers to roll out electric vehicles on a massive scale, saying its customers are turning to e-cars - and loving them.
6 Nov 19 - Why is the clean, green hydrogen technology lagging far behind the hybrid and all-electric sectors of the car industry?
6 Nov 19 - Volvo Buses has received the largest single order for electric buses in Europe.
21 Oct 19 - The breathless hype around driverless electric vehicles once promised an urban transport "revolution".
9 Oct 19 - SUVs are a paradox. While many people buy them to feel safer, they are statistically less safe than regular cars.
9 Oct 19 - Denmark, backed by 10 other European Union countries, has called for a strategy to phase out diesel and petrol cars by 2030.
30 Sep 19 - Most New Zealand businesses are not offsetting greenhouse gas emissions from flights, Air New Zealand says.
24 Sep 19 - Zero-emissions shipping will be a commercial reality by the end of next decade, according to a pledge JUST made by shipping giants.
20 Sep 19 - The number of commercial aircraft in operation will more than double in the next 20 years to 48,000 planes worldwide, Airbus has forecast.
---