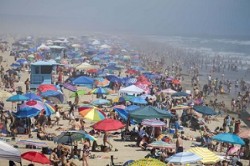 Monday - Record high temperatures have been set across much of the world as an unusually prolonged and broad heatwave intensifies concerns about climate change.

Monday - Nearly 900 institutions have committed to some level of divestment from oil, gas and coal. Others believe they can push climate action more effectively as investors.

Monday - The UK can have low-carbon electricity, heat and transport in 2050 at the same cost as today's high-carbon energy system, according to infrastructure advisers.

Monday - Nearly three years after the Paris Agreement was reached, more than a tenth of global emissions are generated in countries that have not formally adopted the deal.

Monday - A 100-metre high iceberg has drifted close to a village on Greenland's west coast, prompting fears of a tsunami if it breaks up.

Friday - Tesla founder Elon Musk says his new factory in Shanghai - the company's first outside the US - will build 500,000 electric cars a year.

Friday - Ireland will become the first country to sell off its investments in fossil fuel companies, after a bill was passed with all-party support in the lower house of parliament.
---
Friday - Germany has set a record for renewable power production during the first six months of 2018.
Friday - A tiny fern might provide global impact for sinking atmospheric carbon dioxide, fixing nitrogen in agriculture and shooing pesky insects from crops.
Friday - Record-breaking high temperatures across much of North America appear to be shaping people's thinking, a survey finds.
Friday - More than 1000 square feet of plastic ultimately destined to pollute the ocean is getting a second lease on life in Rotterdam.
Thursday - Global investment in clean technologies is closely tracking last year and has already hit $138.2 billion, according to new analysis.
Thursday - After the US surrendered its influence, the EU-China summit in Beijing next week will be yet another moment for both economies to show leadership on climate action.
Thursday - China issued $30 billion in green bonds in 2017, remaining the world leader in the market.
Thursday - Chemistry professor Dr Rajagopalan Vasudevan, 73, wants us to know that repurposed plastic can be good for the environment.
Thursday - India's obsession with affordable small cars could delay the Narendra Modi government's ambitious plan to only sell electric vehicles in the country by 2030.
Thursday - The lifestyle of nomads in the ancient home of Genghis Khan and his Mongol horde is under threat as never before. Climate change, combined with local environment mismanagement, government neglect and...
Wednesday - The creation of the world's biggest ocean sanctuary, protecting a huge tract of remote seas around Antarctica, has come a step closer after major fishing companies came out in favour of the plan.
Wednesday - Cement makers who run one of the world's biggest industries - and are a leading producer of greenhouse gas emissions - might finally be making moves to combat climate change.
---