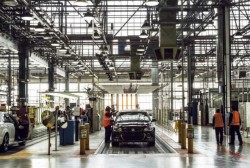 Wednesday - UK billionaire Sanjeev Gupta is looking to buy equipment from and use part of the old Holden factory in South Australia to create an electric vehicle production line.

Wednesday - Australia has been named among the top 10 nations investing in clean energy, with more than $11.3 billion spent on renewables in 2017.

Monday - As Australian sports fans and players swelter through another summer season, questions of stadium design to deal with extreme heat are becoming more urgent.

Monday - The world's largest lithium ion battery has brought much needed flexibility to the South Australian grid, encouraging other Australian states to follow suit.
12 Dec 17 - Australia's emissions over the past year were the highest on record, when relatively unreliable emissions from land use are excluded, according to new estimates.
8 Dec 17 - Adani's operations in Australia appear to be hanging on by a thread, as activists prove effective at undermining the company's chances of getting the finance it needs.

6 Dec 17 - Australians are watching in anticipation to see what impact South Australia's Tesla battery has on the local electricity market, and whether it could be a game-changer nationally.
---
5 Dec 17 - Former Australian prime minister Kevin Rudd talks about the failure of his country's climate policy, the rise of China and the Carmichael coal mine.
4 Dec 17 - The Tesla big battery – the world's biggest lithium-ion battery storage installation – was officially switched on in South Australia on Friday.
4 Dec 17 - Decades of unsustainable logging has created an "extinction debt" in Victoria's central highlands that will trigger an ecosystem-wide collapse within 50 years without urgent intervention.
1 Dec 17 - Queensland Labor looks certain to form a government promising to veto a $1b public loan, which observers say puts the giant Adani coal project in serious doubt.
30 Nov 17 - Australian companies need to start developing sophisticated scenario-based analyses of climate risks, and incorporating them into their business, a thinktank has said.
27 Nov 17 - The world's largest lithium-ion battery, which is being built in South Australia by Tesla to store renewable energy, is about to enter final testing.
27 Nov 17 - Three Melbourne councils, two universities, Zoos Victoria, and half a dozen corporations have banded together to underwrite a windfarm in western Victoria.
24 Nov 17 - Climate change is creating a disaster on Australia's doorstep, according to a government white paper.
21 Nov 17 - Former UN climate chief Christiana Figueres has made a rare intervention in Australian politics, urging the Turnbull government not to grant a controversial coal project a near A$1 billion loan.
20 Nov 17 - Eastern Australia ranks in the top 10 of the world's major deforestation fronts – the only area in a developed nation.
15 Nov 17 - Australia's largest private health insurer, Medibank, will shed tens of millions of dollars in fossil-fuel investments because of the effects of climate change on human health.
10 Nov 17 - The owner of one of Australia's dirtiest coal-fired power plants quietly moved $1bn offshore within days of pocketing $117m from taxpayers.
---