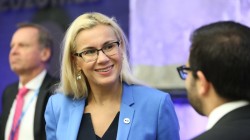 Thursday - The European Union is trying to remove fossil fuels from the list of investments protected by the Energy Charter Treaty to stop its member states being sued over climate action.

Tuesday - The European Commission will not stand in the way of countries that choose to build new nuclear power stations, said EU climate chief Frans Timmermans.

22 Oct 20 - European Union farm ministers have clinched an early-morning deal on the post-2020 Common Agricultural Policy, touted as 'a paradigm shift in European food policy'.

22 Oct 20 - The European Commission will table new EU-wide regulations this autumn to ensure that batteries manufactured or imported into Europe are "the greenest on this planet".

19 Oct 20 - European Union leaders say they will decide on a more stringent climate target for 2030 at a summit in December, leaving more time to forge a united European response to climate change.

15 Oct 20 - Green hydrogen, low-carbon aviation fuel and electric trucks are among 55 clean technologies that can help the European Union to reach its goal of climate neutrality by mid-century, new research shows.

9 Oct 20 - Felix, a Swedish food brand, has opened a climate-conscious store in which items are priced based on their carbon footprints.
---
8 Oct 20 - The European Parliament has voted to update the European Union's climate target for 2030, backing a 60 per cent reduction in greenhouse gas emissions by the end of the decade, up from 40 per cent...
7 Oct 20 - Lawmakers in the European Parliament expect a tight vote on the European Union's new climate target for 2030, with support splintered over the bloc's green ambitions.
2 Oct 20 - The European Commission's plans to use carbon storage in forests and soils to help meet its 2030 emissions reduction target of a 55 per cent cut on 1990 levels is under fire.
1 Oct 20 - Stamps by Finnish studio Berry Creative feature images of birds and snow clouds that turn into skeletons and thunderstorms when heated to send a message about the consequences of climate change.
29 Sep 20 - Poland is moving closer to ending its heavy reliance on coal as the Government and miners' unions agree a landmark plan to phase out mines by 2049.
21 Sep 20 - The European Commission is defending its plan to bring carbon removals from agriculture, land use and forestry into the EU's updated climate target for 2030, saying this is in line with UNFCCC...
17 Sep 20 - Negotiators have ruled out an overhaul of private courts that allow energy companies to sue national governments when climate change policies hurt their profits.
14 Sep 20 - The European Parliament's environment committee has voted for a new EU-wide target to reduce carbon emissions 60 per cent by 2030, setting the stage for tough negotiations with EU countries and the...
11 Sep 20 - France hopes to collaborate with Germany on clean hydrogen projects as part of Europe's green recovery from the pandemic, the country's finance minister has said ahead of a meeting with his German...
10 Sep 20 - The 1991 Energy Charter Treaty must be profoundly overhauled in order to remove all "obsolete" provisions protecting fossil fuel investments and hindering climate action, lawmakers from Europe across...
8 Sep 20 - Germany's conservative CDU/CSU Union has admitted to its own shortcomings when it comes to climate policy and is now searching for a new chairman and candidate for the chancellor's spot, which will...
26 Aug 20 - A European Union plan to cut greenhouse gas emissions up to 55 per cent below 1990 levels by 2030 is technically and economically possible, researchers say.
---